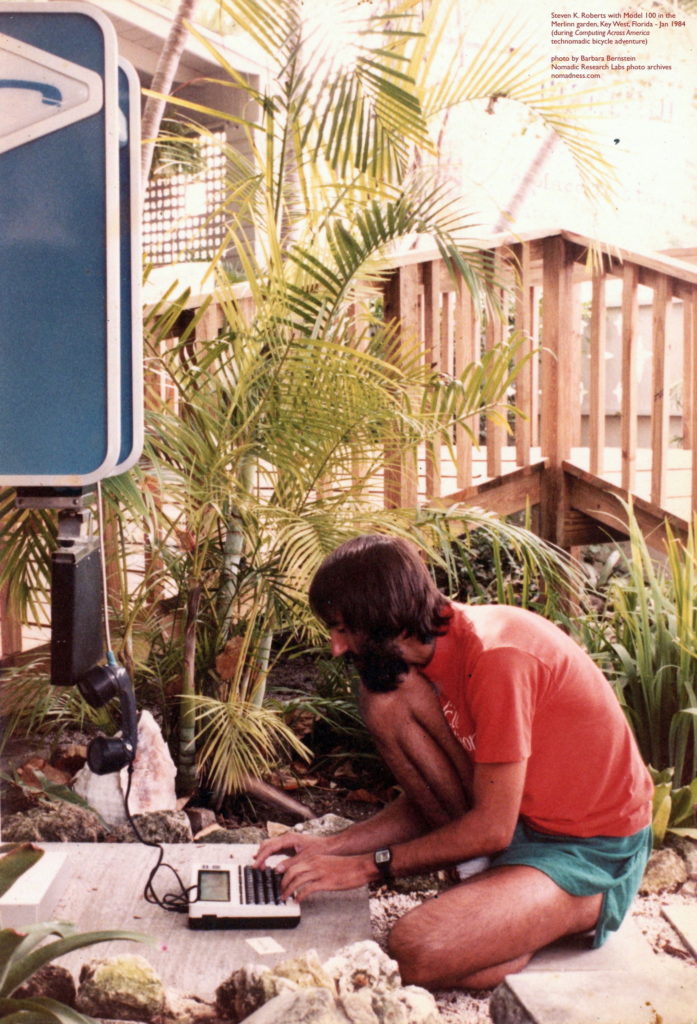 Computing Across America, Chapter 19
by Steven K. Roberts
Key West, Florida
January 13, 1984
You can't have paradise and a network node.
— Charles McGuinness
(Photo above by Barbara Bernstein, taken in the garden of Key West's idyllic Merlinn Guest House as I signed in to check mail and upload a story.)
---
I stood and watched, nervously, as the speck grew in the sky. I was about to have my first look at a woman I had never met — the woman with whom I would be spending one week in a deliberately romantic setting. I had already reserved our room at Key West's tropically indolent Merlinn guest house, a cozy room with one bed…
This wasn't a blind date; it was a blind affair.
Barbara was a melange of images in my head, images born of the torrent of words that had been flowing like hot breath between our computers. The correspondence was magical, electrified: by the fourth day we were planning our rendezvous — by the fifth we had declared undying love. On the sixth, we became veterans of electronic sex, generating a sizzling eighteen-page portrait of our literate passions. We hadn't even seen pictures of each other yet, but on the seventh day she bought transcontinental plane tickets and I started planning the southward trek out of Gainesville.
Such is the nature of online romance when the participants are as electric as the medium itself. We developed in a week something that would have taken months through the US Mail.
Her plane flashed to a stop in the hot January sunshine and I stood, transfixed, watching the passengers emerge. I had a sudden memory of Tina/Dave, the electronic female impersonator, then recalled with a brief <pang> Stephanie, the network nympho. This was insane. Some sleazy old banana-hawker meandering through the crowd held a bright yellow bunch in my face; I waved him away like a pesky fruit fly and there she was, crossing the tarmac of this tiny "international airport" and grinning at me with instant understanding. Spark!
Barbara was about forty, her athletic jogger's frame topped with a thick mane of almost-black curly hair touched with flashes of silver. Tall. Busty but slender. Sprightly step. Bright, playful dark eyes. We repeated each other's names far more than was necessary to confirm mutual recognition, and then fell into a trembling embrace as her luggage slowly pooled around our feet. The fruit hustler drooled and hawked beside us, calling out "Ice Cold Bananas, Get Your Ice Cold Tasty Fruit!" and muttering under his noisy breath while leering at our entwined bodies.
"Let's get outta here," I said.
Thus began the teasing coconut-oil massage on my journey's tanned tropical leg. Key West was the perfect place for a torrid rendezvous, for it is a spirited, playful microcosm of life itself — a place at once wild and civilized, languid and cosmopolitan. Humor hangs in the island air like the pervasive fragrance of frangipani, and everybody's in on the joke except for the motley gaggle of one-day tourists who bustle down Highway 1 to wait impatiently in line for the tour trains. All others understand the concept of mañana.
No day in Key West can be considered complete until it has offered up at least one bizarre, tasty, passionate, or magical event. This marked a change in my perception of the trip, for it was the first time I willingly turned my back on the bike and asked, "Hey, so what the hell's the hurry?" (Knowing that and feeling it are very different things: I had known it for weeks.) But in a place where the word "paradise" crops up in everyday conversation, a reassessment of basic priorities tends to occur.
And very little work gets done.
Even routine events are touched with wonder. Take sunsets, for example: there are a lot of places in the world where spectacular sunsets are commonplace, and they are usually even appreciated. In Aspen, they're called "sky shows." But in Key West, a sunset is a party — every day.
We were in the Merlinn garden. We had met our gracious hosts, completed the show-and-tell of bike-photos-articles-maps-bodies, and were now perched happily in a walled-in jungle of tropical plants, basking in mutual glow. A couple in their fifties approached, smiling, the man pointing at the beginnings of peach creeping into the western sky. "Are you going to sunset?"
"The party on the pier?" I asked.
"Yes. We've grown a bit tired of the crowd, but it's something you should experience at least once." He was Glenn Sarty, an Academy-Award-winning Canadian filmmaker who could lay down some serious jazz; I had stood by the white grand piano in the parlor that afternoon, lost in his music as Barbara showered for the evening's activities. His wife Joan could sing some mean blues herself ("sort of a Billie-Holliday-cum-Tammy-Wynette," as Glenn put it).
Sunset sounded like a good idea, and within a few minutes Barbara and I found ourselves on Duval Street, moving with the general flow of people toward Mallory Square.
Duval has been called, in the characteristic overstatement of Ripley's, "the longest street in the world." After all, it runs from the Atlantic Ocean to the Gulf of Mexico — about fifteen blocks. But that fifteen blocks is a caricature of Key West itself, for you can find it all on Duval.
Twenty-dollar sandwiches or black beans and rice. Musicians — some lost in their own sound, others playing to an audience. Tourists prowling the T-shirt and gift shops, many hurrying back to the safety of their hotels before dark. A nighttime crowd ranging from the rowdy to the catatonic, hitting bars, El Cacique, bars, Häagen-Dazs, and bars. Street vendors hustling jewelry, curios, advice, or their own bodies. Bahamians, Cubans, Puerto Ricans, dreadlocked Rastas, eccentrics, sleaze-bags, wealthy developers, random mavericks, losers, writers, dreamers, dogs, rich plump French-Italian contessas, photographers, beach bums, cyclists, Navy boys, international hostelers, cantankerous old farts who liked it better in the Old Days, crowds of teenage Swedish girls on holiday, and gays, lots of gays — not to mention beautiful women of every imaginable form.
We flowed along in the crowd, our love the color of the changing sky, the shops along our way filled with alluring wares. Everything seemed to glow — especially the people, all clearly in a state of rapture like our own. And when we were borne at last onto the pier, we found ourselves suddenly understanding the allure of this daily event.
Sunset itself was only part of it — the passage of day into night was just the excuse for celebration. Infinite sky and infinite water touched on a sharp line broken only by sailboats, one a three-masted schooner. Water lapped the pilings and rippled in hypnotic randomness, and the colors slowly deepened as we watched. Around us were people, a dizzying variety of people. Some stared at the horizon with cameras poised for the Big Event. Others watched others, with light tropical clothing offering leggy delights at every turn. And the rest were clustered in circles here and there, laughing or foot-tapping to the theatrics of magicians, musicians and clowns.
We strolled about, holding hands, giggling like children at the sights.
"And now for my most amazing trick," a magician in theatrical makeup shouted to his hundred or so onlookers. "I'm going to make an entire crowd of people disappear — just by passing the hat!" Sure enough, folks started slinking away the moment he began darting from one proffered dollar bill to the next.
A lone saxophone man named Shoehorn stood jamming without an audience, tap dancing on a small wooden platform fitted with sensors. A synthesizer added to his surreal jazz solo with syncopated whoopings.
Suddenly a grating voice, growing nearer, penetrated the cacophony of people and musicians. "Key West sweet, Key West treat. Buy one so we both can eat!" A pretty woman on a three-wheeled cycle pedaled slowly by, repeating her pitch, stopping for a moment to sell Key Lime pie to a man in a MICHIGAN T-shirt.
A spirited bluegrass band boogying in bare feet and Birkenstocks fiddled and sang to a smiling circle of music lovers. An open violin case on the pavement contained about forty dollars in bills and coins.
And then there was Pedro the Puerto Rican Calypso man, performing percussive magic with his conga drums and singing off-color songs to the delight of his laughing audience. "Who put the pepper in the Vaseline?" he sang, an encore piece after his inspired rendition of "The Women Are Smarter." Beard, earring, floppy hat — Barb quite adored him and in short order found herself playing one of the drums, grinning in sheer delight at the unalloyed FUN of this place. Pedro nodded at her in easy rhythm, elaborating with articulate brown hands and letting her set the pace.
We walked to the edge of the crowd, drawn to one last cluster of people before seeking a spot on the pier's edge for Sunset itself. This group was silent, and from its midst wafted an eerily beautiful sound — the theme from Chariots of Fire. But it wasn't the melody that penetrated us, it was the instrument. Barbara and I instantly felt the goose bumps and held our breath in amazement at the music: celestial, crystalline, and as pure as the evening itself.
The sound rose from a homemade three-and-a-half-octave glass harmonica. Orange sun sparkled through dozens of wine, brandy, and cordial glasses, each filled to a precise level with water and held down to a board by rubber bands. Clad in conservative shirt and bow tie, Jamey Turner presided over this unlikely device with the controlled hands of a classical musician, making the glasses sing with all the clarity of the spirits they might once have held.
He played Bach — "Jesu, Joy of Man's Desiring." I commented that his glasses were baroque, and he looked at me with a grin. "OK, it's Handel's 'Water Music' for you."
We watched in deep respect, then added to his well-deserved cache of cash and moved back to the crowd. It was now hushed with expectation; the sun was beginning to kiss the water. All music stopped. There were ahhhhs and intakes of breath all around us, interspersed with the whirrs and clicks of camera shutters. Pedro began a quiet drum roll on the congas, and we found ourselves hugging, covered with chills, drawn into silent awe along with everyone there. The sun slowly sank — the colors dazzling, humbling, filling the eyes of the multitude with stinging tears.
A little part of my brain observed, "Good grief, it's just a sunset!" even as the rest of me puddled into sweet helpless emotion. Just a sunset? The beauty was so profound that all conversation in this teeming throng of random people had stuttered to a halt. Thousands of faces with wet cheeks gazed to the west. I bit my lip; Barbara's hand in mine was sweaty, gripping, trembling. Pedro's drum roll neared its climax and exploded just as the sun dropped completely from view, and the whimpering moan of an entire crowd rose to meet the onset of nighttime.
All around us were the exclamations and gasps of nameless childlike wonder.
And then we applauded. A crowd of Americans humbled by nature, overwhelmed by beauty, gave the majestic performance of Sunset a standing ovation. It had never meant so much. All around us, people hugged; some tried to fight back the tears, others wept openly, others laughed with delight and kept the applause going until the sound was but a scattered patter in the growing darkness. The crowd began to dwindle, for there would be no curtain call — though many of us continued to stand, too weak to move, silently contemplating the slowly fading glow of the western sky.
I kissed Barbara and we looked at each other with wet eyes, our emotions stripped of all protective layers. Just a sunset. Right. We sniffed in unison and had a good laugh, then turned our back on one infinite stage and started walking slowly toward the next.
---
The Merlinn guest house on Simonton Street was the perfect theater for a love affair. Romance permeated the very walls, as did the intriguing sounds of the night.
But it wasn't the room that made the magic; it was Merlinn's resident wizards, Stuart and Jay. Men of such sensitivity are rarely found in the frantic seven-day-a-week hotel business, and every corner, every sound, every little touch expressed their concern for their guests' happiness.
The days began in the garden, where a breakfast of fresh quiche, muffins, juice and coffee was served. The smells of brewing and baking intertwined like delicate tendrils with the airy music of Medicine Wind; morning sun danced playfully through the orchids, palms, and papaya trees above our heads. It was a ritual of daily warmth — congenial guests mingling to share relaxed time and smiles.
There was a strong sense of community in this fenced oasis of languor set incongruously amid low-income housing and commercial establishments. The sign on the muffler shop across the street read "Our business is exhausting." Yes, life was routine outside the fence, but inside it was paradise, the contrast never failing to heighten the grace of the Merlinn experience. Wooden decks designed for beauty more than function wound through the gardens and over the pond, past the gate and around the pool. Pink flowers fallen from the trees appeared to have been strategically placed by some inspired exterior decorator, and at times I felt like a breeze, so gentle were my burdens in this place of light and spark.
The evenings began in the salon. In gruff understatement, Stuart called it the "cocktail hour" — this time that brought us all together like a holiday family. We chatted easily and served ourselves from the endlessly full pitcher of intoxicating pink liquid, all the while nibbling hors d'oeuvres of cheese, crackers, nuts, and shrimp. Guests filtered in, warmly welcoming the day's newcomers into our Key West home. Indeed, this was unlike any public accommodation I've ever seen: quality art, walls of interesting books, a white grand piano, healthy plants, tasteful furniture, quaint knickknacks… and holding it together a sense of caring that proved Merlinn was a home first, a business second.
(One evening I leaned back against the wall, and Jay stepped across the room to place a pillow behind my head.)
Barbara and I often chuckled at the contrast between this and the blight of identical motels out there, functional places barren in design and spirit. The sign in front of Merlinn simply says "A place to stay."
---
On the last night of our rendezvous, we settled comfortably into our usual chairs, pink drinks in hand. Through the week our glow had deepened, the sparkle of the first day permeating every cell. We had become the darlings of the place, not to mention the local media: a romantic full-page story called "Love at First Byte" had appeared in the Key West Citizen. Jay beamed at us and sang love songs; Glenn and Joan greeted us as old friends. A twin-bearing Nashville couple touched us with their smiles, and we all clinked glasses and swapped tales of life.
Suddenly Jay looked over from his piano and started singing to us in a voice quavering with emotion.
A Key West sunset's very fair,
Frangipani in the air.
It's a feeling very rare indeed, but
Won't you spend a Key West sunrise with me…
At that moment, the reality struck. Barbara and I looked at each other and knew — she would be back in California by this time the next night; I would be somewhere else, on the streets. No more midnight frolicking in the Jacuzzi, no more pink drinks. No more playful walks on Duval, no more sunsets. (And we never had managed to get up early enough for a sunrise.) The life here was addicting, hopelessly addicting; in such a place we could be in love forever. No deadlines — just quiche and music, pink liquid and loving. Moonlit walks and simultaneous oyster-slurping at the Half Shell Raw Bar. Bike rides, stunt kites, and timeless moments with new friends. All of it — over.
We hugged in love and sadness, the other guests watching in understanding warmth and surprising us with a champagne send-off. And then we went out to dinner, an event that signaled in true Key West style the passage of one epoch into another.
The author of the Citizen story was Chris Hunter, and during the interview he had become enchanted with my trip, our romance, and the strange electronic world in which both had developed. He and his wife Lori invited us out.
We sat at Kantina West, chuckling at the antics of a wine-shooting Mexican waiter and discussing problems in paradise. There was serious overcrowding on this four-square-mile island, and water purity was questionable. Raw sewage was being dumped two miles offshore, and it was starting to hit the fan. Taxes were going up, cruise ships were invading, crime was on the rise, and the age-old battle between developers and residents was escalating dangerously. (I had seen a sign just that morning: "The Sands Beach project is an abomination. This house will never be sold to a developer!")
We had just begun discussing the island's underfunded school system when I noticed her at the next table, staring at me and smiling. Her blouse was unbuttoned; her hair loose; her skirt short and breezy. The fabric moved higher as the minutes passed… I kept looking over in growing arousal, realizing that she had targeted me for merciless seduction. No, no, please, not now, any other time, but not now…
I struggled to focus on the effects of seasonal demographic shift on Key West's educational system, heart pounding, hands clammy, breath short. Barbara's fingers casually stroked my bare leg, driving me crazy, and Chris kept right on talking as if the walls were not crumbling, as if I were still sane. What the hell was wrong with me? Beside me sat my family, should I choose to accept it.
My assailant smiled and looked me slowly up and down, eyes lingering under the table… then dropped a hand to her lap…
Of course it was just an illusion; her girlfriend returned from the bathroom, and she treated me to one last flash as they left in a flurry of giggles. But Barbara's departure was imminent, and I was already wondering where I would sleep and what I would do next. This was as exciting as it was terrifying; my brief flirtation with "settling down" was over.
---
The sense of being alone is never so great as when someone you love is leaving. At the airport the next morning there was all the poignant emotion of a Key West Sunset — something perfect was coming to an end.
Barbara flew off whence she came, the moment lingering in my vision like the last page of a novel. Behind me, the sleazy fruit vendor muttered and spat; I bought a banana and rode slowly back to Duval Street.
Alone.
The beach fantasy was touched with madness; the love in every passing face had hardened to a grimace of desperate solitude. Time to move on? Is this how it works?
Personal Note: I never thought I'd say this, but sometimes I really appreciate being older. I think back to that night a third of a century ago and remember the tingling intensity, the ease with which a suspiciously "easy" stranger could snatch my attention away from something significant. I fantasized about her for years… but if that scene were repeated now (not likely, in my 60s!), I would just smile and calmly savor the unexpected treat.
---
You must log in to post a comment.