BEHEMOTH at Miami University
It's a bird, it's a plane, the BEHEMOTH is coming
by Ian Fried, STUDENT writer
Miami Student
March 9, 1993
It weighs over 500 pounds. It's powered by humans but has a voice and three brains. It can only be called BEHEMOTH and it's coming to Miami.
BEHEMOTH is a 105-geared bike featuring a computer console with a Macintosh, a reconfigured Tandy laptop, a Sun SPARCstation computer, a RUMP (Rear Unit of Many Purposes) and a state-of-the-art security system.
BEHEMOTH, or Big Electronic Human Engineered Machine and its pilot, Steve Roberts, will be coming to Miami on Thursday at 8 p.m. in lower Alexander Dining 3 Hall.
The computerized bike is the third bike/computer hybrid that Roberts has created. Winnebiko and Winnebiko II, his first two efforts, were the subject of his book Computing Across America.
Roberts, who is originally from Louisville, has been a freelance writer since he was 21, built his first computer in 1973 and now communicates with an ever-growing number of people through ham radio and electronic mail, according to QST Magazine.
To stay in constant communication with his many associates, Roberts has a keyboard on each hand grip and an eyepiece in his goggles which serves as a miniature computer screen. A microphone in his helmet allows Roberts to talk over his radio and on his cellular phone.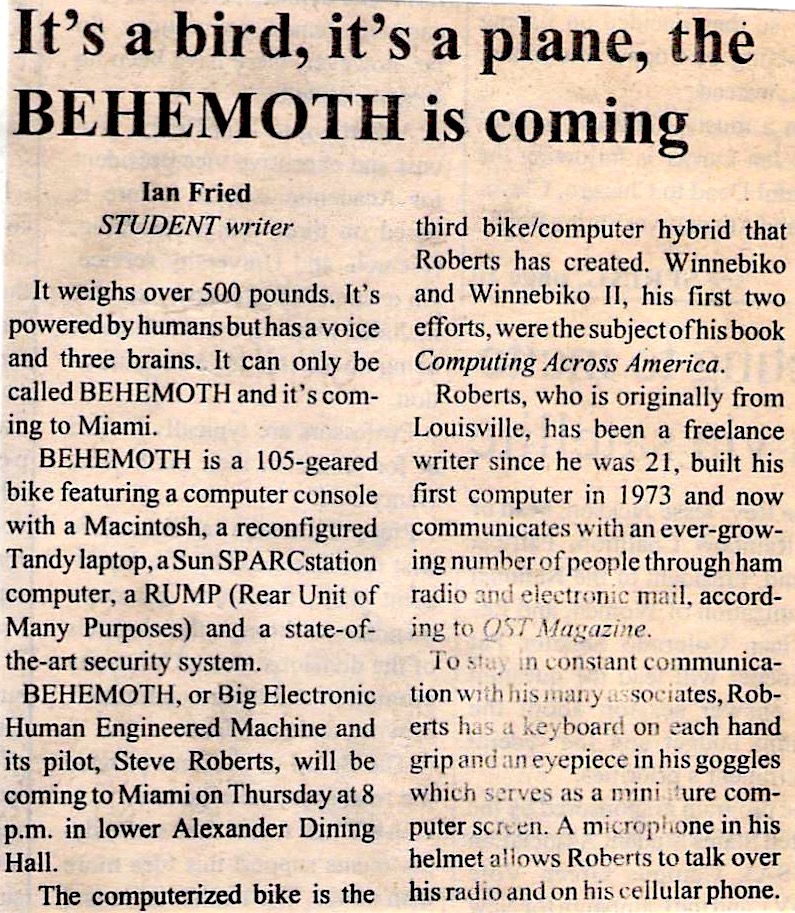 You must log in to post a comment.