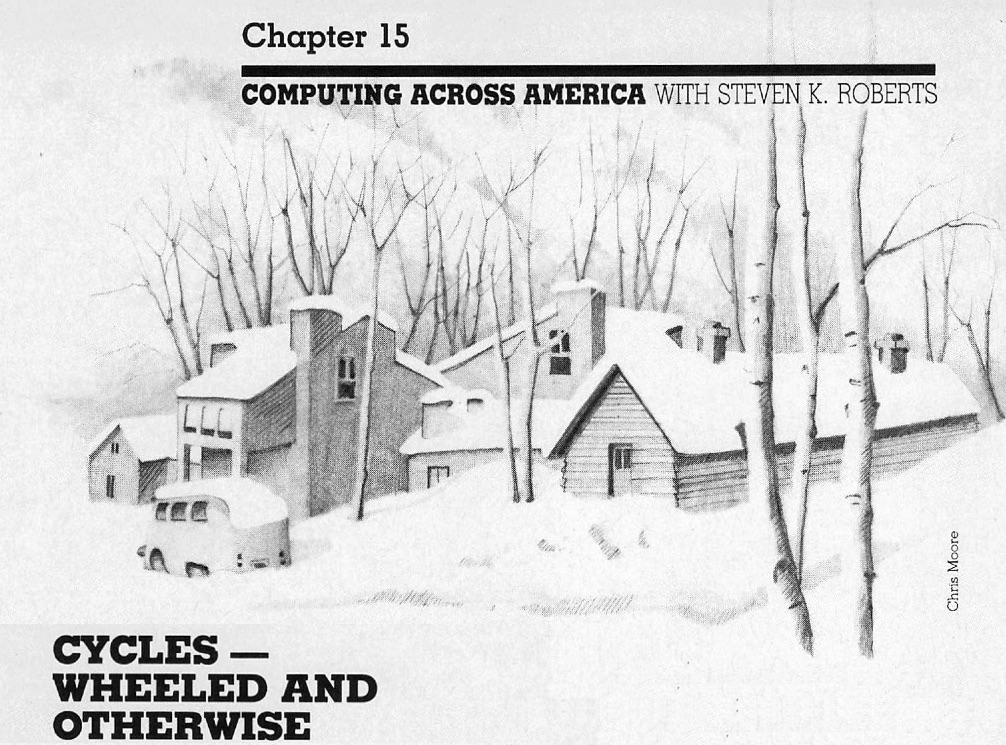 Cycles – Wheeled and Otherwise
I felt a wistfulness developing, as my adventure moved into its second year. The tug of community… finding places that touched my heart and made me want to find a home. Previous homes had simply been default states, but what would it be like to live somewhere because you love it? What a concept…
by Steven K. Roberts
Online Today 
January, 1985
(written in Telluride — October, 1984)
Not all of the motives underlying this high-tech bicycle odyssey involve adventure and fame. Some of them have to do with ancient, noble values like education and community.
Community? A guy on a bicycle claims to be into community? Aside from hobnobbing on the CompuServe network and having an occasional two-week flirtation with romance, how can a nomad claim to be interested in something as permanent as that?
Well, it was the absence of community that kept prodding me, like a relentless irritant, to leave Columbus, and it's the almost tangible presence of it that keeps me hanging around Colorado mountain towns even at the snowy beginning of November. There is something special about places where people want to live — places isolated, fun-oriented and ruggedly beautiful — something that leads to the development of a closely knit society unlike any other.
I'm writing this on a snowy day in Telluride. I sit in a bar with the HP computer ill-lit before me, while I become well-lit through the enthusiastic consumption of liqueur-laced coffee. The place has the feel of family. Conversations swirl about me as people chat of skiing, the latest politics, KOTO radio and the weekend's parties. Like Crested Butte, this is a playground — recreation is the raison d'etre, not just an occasional respite from work.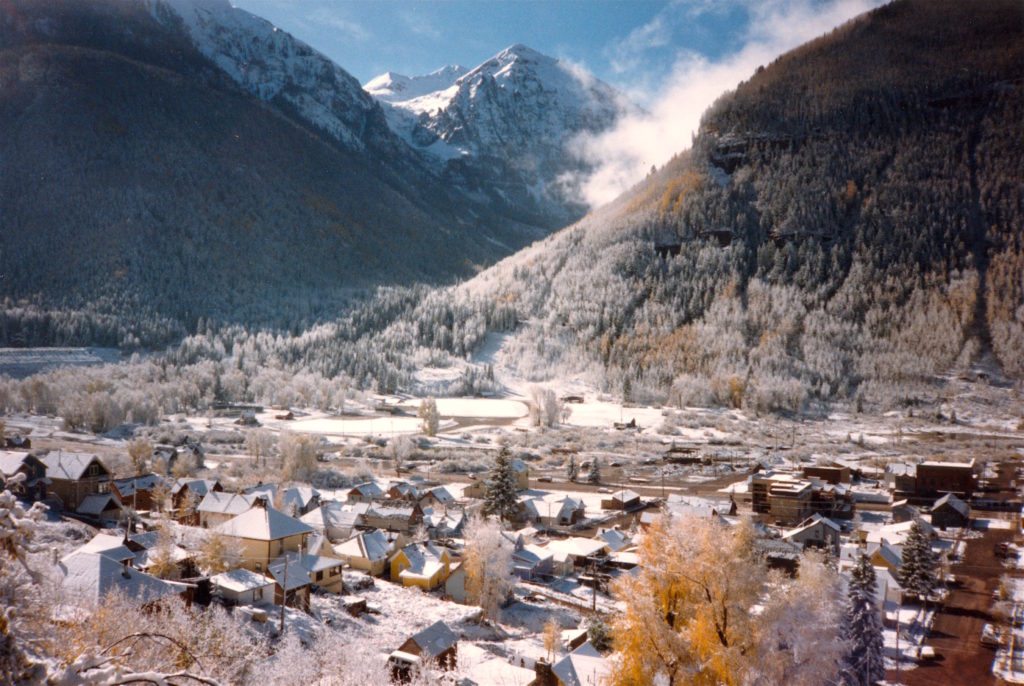 It's an interesting phenomenon. Outside, a tall, dark-haired beauty is plowing snow with a huge yellow bulldozer. A campaign poster urges the re-election of Terry Tice: "VISION, STYLE & GREAT LEGS." A basic theme of conversation is the beauty of the day, the magic of the sun on the mountain and the delicious crispness of the air. The community radio is the pulse of the town, and people really care — from politics to kids to the "free box" on the street, everyone is involved.
Part of it, I think, is a sense of "home" that extends far beyond the confines of individuals' property. They've seen what happens to a Vail or an Aspen when big city problems invade charming little towns, and they don't want to be chased out by crime, traffic and condos.
It's a fine line to tread: Telluride survives on income from skiers, hunters, tourists and festival attendees, yet it has to fight growth in order to retain its character. And thus arise endless bitter struggles between bottom-line-oriented developers and those with preservation of the community at heart.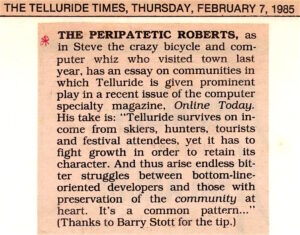 It's a common pattern, one I've witnessed in Key West (here comes Big Money), Santa Fe (it's far too late), Aspen (full speed ahead!) and countless little Colorado towns, still young and unspoiled. They are usually places that were given a unique character through geographic or ethnic influence, and now attract expatriate urbanites and refugees of the rat race.
Crested Butte is the land of the professional drop-out: It's in one of the nation's top 10 counties as far as education is concerned, yet has an average annual income under $20,000. Key West attracts cruise ships and hordes of tourists who gawk at the Hemingway house, driving the locals into hiding. Austin is the place for those who can't handle Houston anymore, and Santa Fe draws the artsy, the crafty and the New-age dilettantes like a huge trendy magnet. People come to these places to sample the magic ambiance, and then they stay and dilute it.
And thus is born a phenomenon: the cyclic flight of a unique subculture from town to town. They are the people who give places the character that leads to their ruin, the people who embody the spirit of community with their very existence. They open their arms to strangers and bid them welcome, and a few years later they find their homes bulldozed for condos and their town in the throes of gentrification. And so they move on to try again; they move on with growing cynicism and slowly close their circles to outsiders.
You can see it in all stages. Crested Butte is like a cozy old couch, so welcoming and homey that doors are seldom locked. Telluride is a bit suspicious of strangers — it's alive with spirit and energy but wary of those who come a-knocking. Aspen is like a marriage of Crested Butte and New York City — if you ain't rich, then go away. ("I'm always offended when I come here," another cyclist told me. "Even though this mall is what God would do if He had the money, there's something wrong. Everybody just looks right through you.")
But lurking behind this seemingly sad pattern is hope. Places yet to be discovered will feel the spirit of community in years to come, for the nomadic subculture of magical folk will move on… and on… and on. They have no choice.
All of which suggests something about the nature and length of my journey. I will slow down, inevitably — spending entire seasons and probably even years in places that touch my spirit. But I can never truly stop, for somewhere between full-time travel and absolute stasis is the gentle pace of those who ride the waves of community and evade the dark stagnation of overdevelopment.
And what now? I wait for the snows to subside and look restlessly toward the road, the west, the Pacific. The bicycle is a learning machine; the journey is in but its adolescence. Somewhere out there is my next home.
---
Steve Roberts publishes a more current account of his adventures in a CompuServe database (GO CAA for details). His CompuServe User ID number is 70007,362.
Editor's note: Steve Roberts, Online Today's nomadic journalist, is currently traveling around the United Stales on a recumbent bicycle. He uses a Hewlett-Packard Model 110 for both writing and communications. During this trip, which is expected to cover 20,000 miles, Roberts is writing regular columns for Online Today, as well as a book entitled Computing Across America, which will be published in 1985 by Simon & Schuster.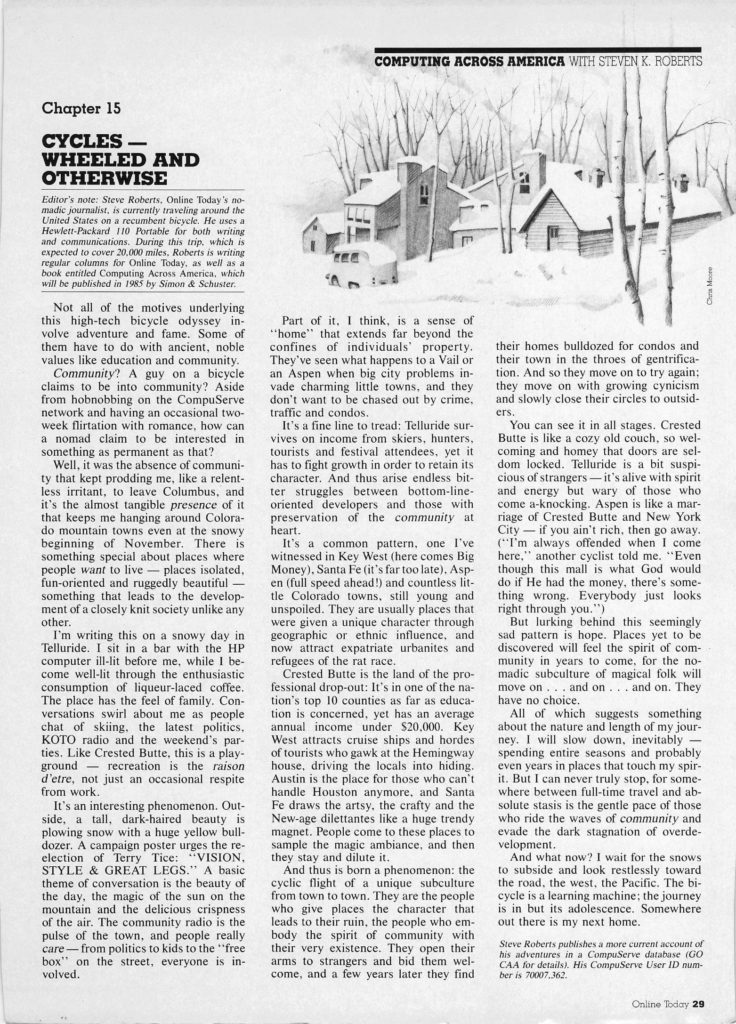 You must log in to post a comment.