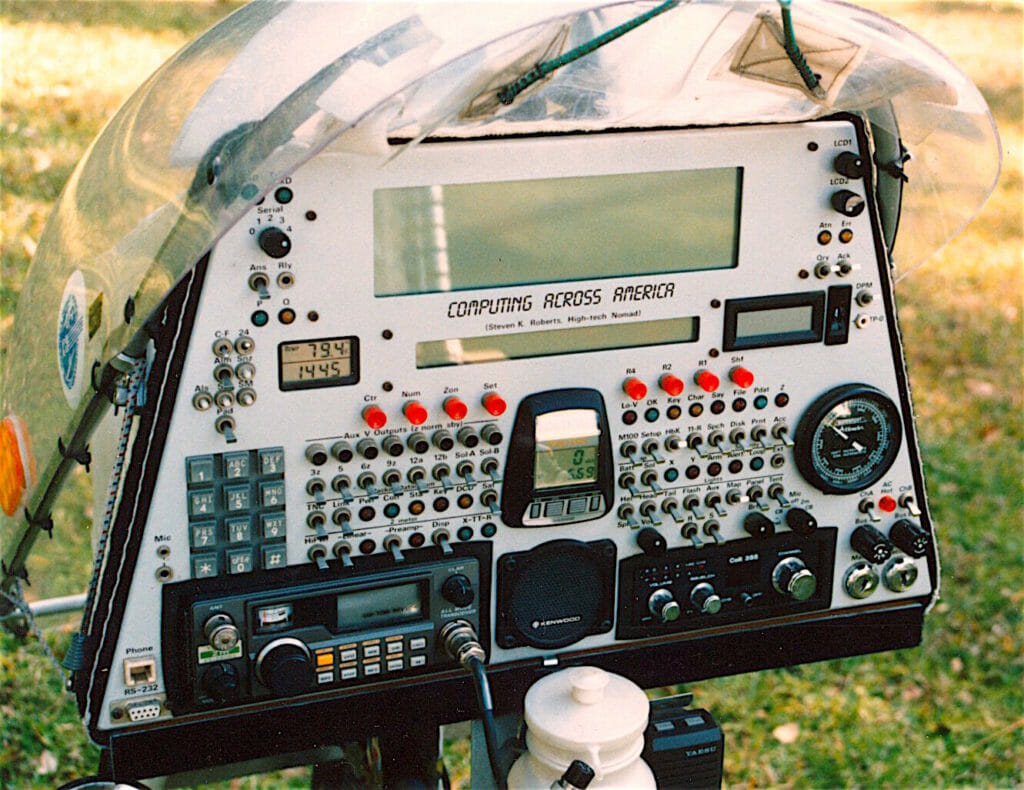 Hi-tech bike in Mansfield
The blazing-hot summer of 1987 saw us heading northeast from Columbus, resuming the adventure after tidying up things in my old home town. This local news article captured a snapshot of this phase….
by Susan Dice
Mansfield News Journal
July 26, 1987
MT. GILEAD — Just as a turtle carries his home on his back, bicyclists Steven Roberts and Maggie Victor carry all the comforts of home with them as they ride through the United States.
Passing through north central Ohio this weekend, they spent Saturday evening at the Malabar Farm Youth Hostel before continuing their journey eastward.
Roberts, a free-lance writer, calls himself "a high-tech nomad," for his oneof-a-kind bicycle.
It contains — in part — five computers, an electronic compass, two solar panels, a motion-sensitive security system, more than 30 circuit boards, a speech synthesizer, a tiny television set, shortwave radio, a microfiche documentation library and telephone access via autopatch.
Roberts calls it a "220-pound electronic cottage on wheels."
The bicycle was custom-built from the frame up with the latest in technology and has been Roberts' home and office since 1983. It has traveled more than 12,000 miles.
Ms. Victor — a native of Claridon in Marion County and 1970 graduate of River Valley High School — teamed up with him last year.
"We met in February, I quit my job in May and we took off for the West Coast in August," Ms. Victor said. "He told me what he planned to do. And I said that sounded like a good idea. So he asked me if I'd like to take a bike ride. And I said yes, I think I can do that."
The bike ride took the couple across the country to Vancouver, British Columbia, where their bikes were on display at the World's Fair and on down the coast to the San Francisco Bay area.
A van brought them back to Ohio, and once again they are embarking on a journey — this time through Pennsylvania and upstate New York into the New England area and the coast.
The couple plan to participate in a human-powered vehicle event in Washington, D.C., in September and then head south.
Roberts has been published in Cyclist magazine, Whole Earth Review and writes a column for Computer Currents. Roberts and Ms. Victor together publish a monthly magazine called the "Treknowledgy."
Roberts wrote a book, Computing Across America, about his first trip through the country. It is scheduled to be released soon.
Ms. Victor, also a free-lance writer, previously wrote a column for the Marion Star and is presently writing articles for Bicycle Magazine and
working on a cookbook entitled, Computing Across America Cookbook.
Ms. Victor said the book will contain short character sketches of the people the couple have met on their travels as well as recipes for travelers.
Roberts writes as he bikes with a keyboard on his handlebars.
"This makes my pedaling time more productive," he said.
He also said he can write as ideas and stories develop.
As the story is finished, Roberts transmits his story from his word processor to his publisher in California through the GEnie Computer Network.
Both are amateur radio operators, and Roberts uses packet radio to send and receive mail while on the road.
Asked why he gave up his home and life in suburban Columbus and a home and office on wheels, he answered, "Why not? The greatest risk of all is taking no risk. If you think too much about where you're going… you lose respect for where you are."