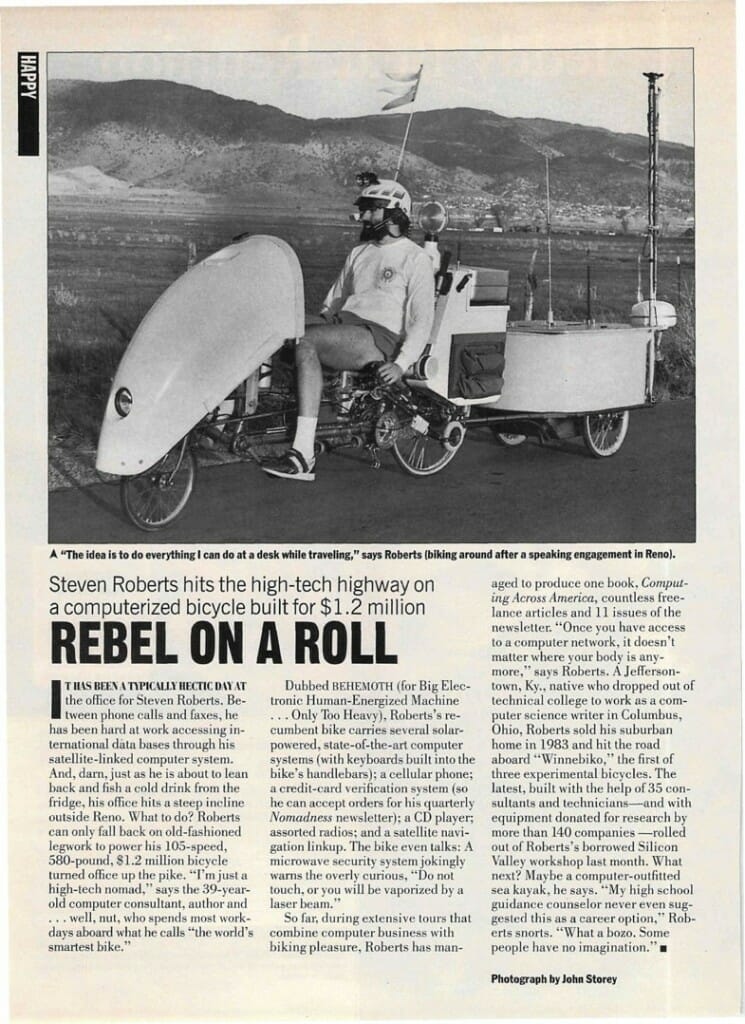 There was quite a flurry of media coverage about BEHEMOTH in 1992. This short piece sounds like the name of a sandwich and is very lightweight, but I was delighted to have my one appearance in People be in the special issue about Johnny Carson:

People Magazine
May 25, 1992
Reno, Nevada
Photo by John Storey
IT HAS BEEN A TYPICALLY HECTIC DAY AT the office for Steven Roberts. Between phone calls and faxes, he has been hard at work accessing international databases through his satellite-linked computer system. And, darn, just as he is about to lean back and fish a cold drink from the fridge, his office hits a steep incline outside Reno. What to do? Roberts can only fall back on old-fashioned legwork to power his 105-speed, 580-pound, $1.2 million bicycle turned office up the pike. "I'm just a high-tech nomad," says the 39-year old computer consultant, author and . . . well, nut, who spends most workdays aboard what he calls "the world's smartest bike."
Dubbed BEHEMOTH (for Big Electronic Human-Energized Machine . . . Only Too Heavy), Roberts' recumbent bike carries several solar-powered, state-of-the-art computer systems (with keyboards built into the bike's handlebars); a cellular phone; a credit-card verification system (so he can accept orders for his quarterly Nomadness newsletter); a CD player; assorted radios; and a satellite navigation linkup. The bike even talks: A microwave security system jokingly warns the overly curious, "Do not touch, or you will be vaporized by a laser beam."
So far, during extensive tours that combine computer business with biking pleasure, Roberts has managed to produce one book, Computing Across America, countless freelance articles and 11 issues of the newsletter. "Once you have access to a computer network, it doesn't matter where your body is anymore," says Roberts. A Jeffersontown, Ky., native who dropped out of technical college to work as a computer science writer in Columbus, Ohio, Roberts sold his suburban home in 1983 and hit the road aboard "Winnebiko," the first of three experimental bicycles. The latest, built with the help of 35 consultants and technicians—and with equipment donated for research by more than 140 companies — rolled out of Roberts' borrowed Silicon Valley workshop last month. What next? Maybe a computer-outfitted sea kayak, he says. "My high school guidance counselor never even suggested this as a career option," Roberts snorts. "What a bozo. Some people have no imagination."
You must log in to post a comment.