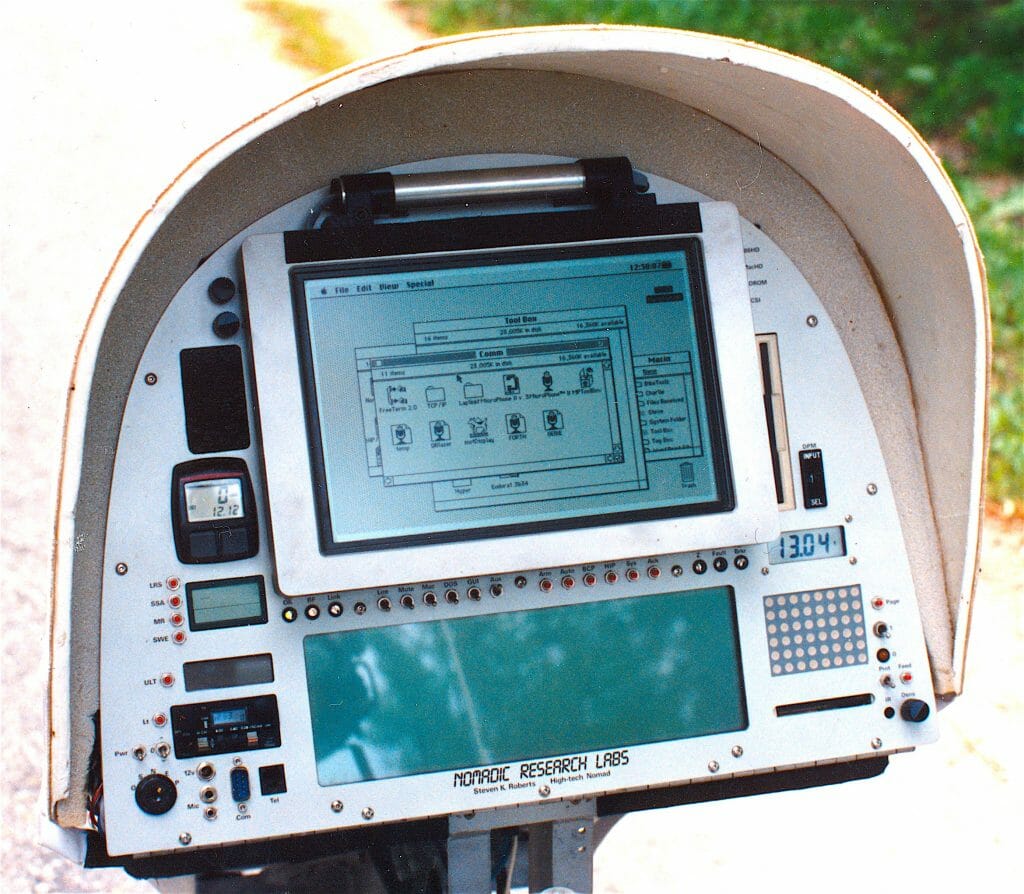 The BEHEMOTH Folding Console
Over the years of taking BEHEMOTH onto stage for speaking gigs, one of the biggest crowd-pleasers (especially among engineers) was the folding console. This is where it started… a mechanical design by David Berkstresser, lots of sheet-metal parts, then an arcane assembly of hinged surfaces attached to a shock-isolated aluminum substrate and held in place with twist-lock expanding rubber fasteners.
The photo series below was taken by Maggie Victor at our rental house near Santa Cruz… before I moved the whole project to the Bikelab hosted by Sun Microsystems over in Mountain View. The March 1990 date on this post is an estimate based on other goings-on at the time. Oddly, I have no other collections of photos showing this unfolding process, and only three videos (one is on stage while doing the Phil Donahue show; another is during a presentation to Quantum beginning right here; and the third is during the presentation of the bike to the Computer History Museum… here is that spot in the hour-long recording). I was delighted to find this stack of prints tucked into a binder, and scanned them for this archive.
by Steven K. Roberts
Silicon Valley & Santa Cruz
circa March, 1990
First, let's look at the big picture for context. Taken during a visit to Peterborough, New Hampshire, here I am aboard BEHEMOTH:
This article focuses on the mechanical packaging under that white hood, which releases with long Velcro flaps and hinges forward to lie on the ground (with a little pad to prevent scratches to the fiberglass finish).
As with all such things, it began with dreams, sketches, CAD work, and finally some real engineering…
Design began with brainstorming and identification of requirements, then David Berkstresser applied his mechanical engineering and CAD wizardry to create a series of drawings. Two of those sheets have been kicking around my labs for over 23 years and show their age, but you can can get an idea of the visualization process by clicking these to embiggen them. David was remarkably adept at taking my hand-waving enthusiastic specifications, deducing real design constraints, incorporating realities like bend radii, and turning them into something that could then be expressed in metal. In this case, that also included issues like serviceability, viewing angle, mechanical stability and shock absorption while being pounded on rough roads, and provision for finger-friendly fasteners that would let the whole thing be opened and closed without tools.
From here, we made a cardboard model (the real CAD system — Cardboard Aided Design), and I played with it for a while to confirm usability. Features were added, like an internal bracing wall that triangulated all the upper surfaces while providing a perfect spot for the Bicycle Control Processor as well as the cabling-intensive 32-channel audio crossbar network, and it became clear that generous flanges would be necessary to support the expanding-rubber quarter-turn fasteners that would help reduce vibration. The substrate and front panel are .090 aluminum, the folding surfaces are .062, and the whole system mounts on the bike via four "Lord Mounts" that provide suspension (not just to coddle the electronics, but to protect the bike's headset bearings from unsprung loads). To refine the layout of the panel itself,I made a cardboard mockup of it and spent hours in simulated operation… erasing and moving things around until it made sense. Things changed considerably by the time it was implemented, but this process weeded out a lot of early misconceptions and silly ideas while they could still be fixed with hot glue, eraser, and pencil.
We went to work with brake and shear, assembled it with Cleco fasteners, then incrementally replaced those with rivets… and it worked beautifully! Here's a side view of it during initial fitting:
From there, electronics work could begin.This series of photos, taken about a year later but long before cabling the systems, steps through the unfolding process. The fairing is yet temporary and nothing was working yet, but you can see the mechanical assembly clearly:
By the time all this was cabled and packed with electronics, it became quite a dense assembly… and the folding design paid off constantly. Demos were easy, service was quick, and there was a surprising amount of real-estate available for computers, dedicated subsystems, comm tools, and other devices packed in there. I even had a little stainless tray for screws and other parts, having learned with the Winnebiko II how easily such things disappear! (There is a detailed article about the console of that version, four years earlier… with lots of photos including John David Call of Pure Prairie League, who provided the machine shop facilities.)
Oh, there is one more folding item… the Macintosh display, which is mounted in a beautiful machined enclosure custom-made by Ron Covell, and stiffly hinged to allow what I came to call mechanical display paging. The one that is underneath it, co-planar with the front panel itself, is a VGA display associated with the Ampro 386 system, and in normal operation, the Mac screen is locked down with those black snap fasteners. A separate article will go into the other console devices, but here's a shot of this additional bit of hinging, also taken before much integration had been completed (note the temporary external mounting of the cell phone, which was later integrated into the bike's network):
The bike itself now resides in the Computer History Museum in Silicon Valley, if you'd ever like to see it close-up. Meanwhile, here's a shot from a campground in Wisconsin in the summer of 1991…
And a production still from a filming with a Dutch science show that took place one day near Orlando…
It works!
You must log in to post a comment.