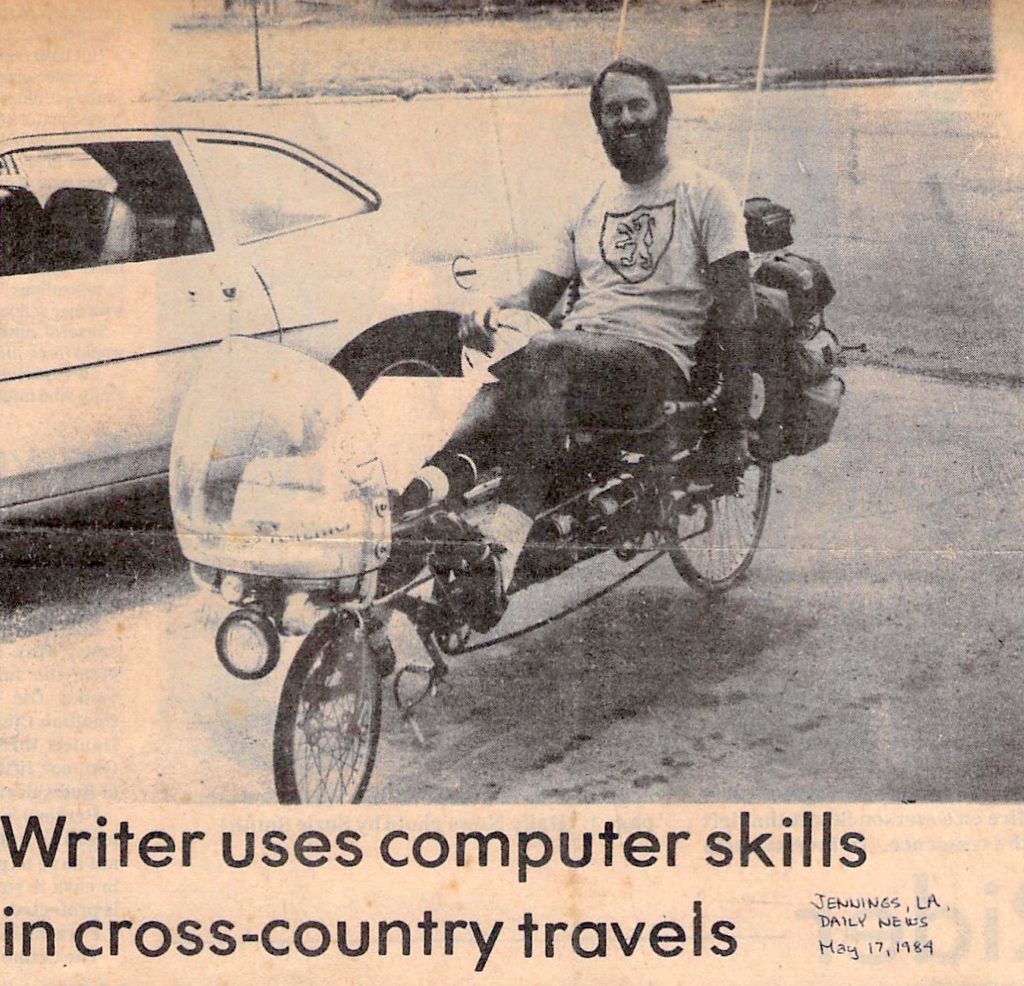 Computer bicycle – Jennings Louisiana
This is quite a substantial article for an on-the-road interview; it was a 92-mile day between my overnight stops in Lafayette and Lake Charles. I like the way the author captured the sense of movement — not just a snapshot. 
by Angela Gott
Jennings Daily News
May 17, 1984
Imagine a vehicle equipped with a computer, a solar battery, and a security system, that uses no gas, and travels across the countryside without a sound. Something from a James Bond movie?
It's not. It's Steve Roberts, on his trek across the nation on his homemade bicycle.
Of course, it's not just any homemade bike. The Daily News learned that when a phone call Wednesday afternoon alerted us that "a guy on a strange-looking bike" was going down U.S. 90 from Mermentau toward Jennings.
A little searching around town revealed Roberts just as he was rolling into the city limits. He was easy to spot, on his laid-back, low to the ground bicycle, loaded with backpacks and bundles.
He was more than happy to stop and talk, and his fascinating story began to unfold. Seven and a half months ago, Roberts began his journey from Columbus, Ohio. A freelance writer for four years, he'd suddenly decided that "freelance writing and being chained to a desk didn't mix, I felt I should be out there getting the stories, not sitting in one place."
After selling his house and shaking off the last vestiges of his former job as a computer consultant, Roberts took off on his specially-equipped bike to find adventure. He supports himself by doing a regular column for USA Today, a popular travel magazine, and contributing to other publications such as Popular Computing and Popular Science.
He is the author of several books and is currently writing another, called Computing Across America.
"The media has been very interested in me almost everywhere I go," he said, presenting a folder filled with magazine and newspaper clippings written about him. "I'm going to be on the CBS Morning News in a few weeks in Texas. Some people from the local affiliate station are going to ride with me for a few miles and interview me.
"I was also going to be on Real People, but then they got cancelled for next season. Oh, well, that's the breaks," he said casually, in his calm, easygoing manner.
When asked how he writes his stories, Roberts went to his backpack and took out a small word processor, no bigger than a college-size notebook. "I do my stories on this, then I go to any payphone, hook this wire into it, and send the story through to my secretary in my office in Ohio."
The bike is equipped with everything a cross-country traveler needs. A solar panel on the front of the bike powers the horn, the headlight, and the bike's "security system." The system is a device connected to a lock, which sends out a signal to a beeper Roberts carries with him. "The beeper goes off if anyone fools with the bike," he explained. "It has a four-mile radius."
He also has a C.B. radio, a tape player and headphones, and even a microphone in case he wants to dictate notes while he's riding.
In his travels so far, Roberts has gone from Ohio, down to Florida and across through the southern states to Louisiana. "I'm having a ball," he said. "I'm supposed to hit the 5,000-mile mark next week."
"I'm amazed at how friendly this part of the world is," he said. "Originally, I was going to zip across Louisiana in five days because all you hear about this state up north is that there are nothing but shotgun-toting rednecks driving pickup trucks," he laughed.
But instead of five days, he's ended up spending a month here, winding his way around the state. He's written three stories about the state so far, hoping to dispel the popular opinion of Louisiana.
When asked about the most unusual thing that ever happened to him during his travels, a most incredible story emerged. While in Maryland, on a rather deserted road winding through the mountains, he saw an 18-wheeler wrecked on the roadside, with its cargo scattered everywhere.
"I stopped and got off my bike to take a look, and I heard this rustling noise in the forest behind me. I turned around to see five of the roughest-looking guys I ever saw. They were huge.
"One of them looked at my bike and asked, 'What's this?' So I gave them the whole story about how I was traveling across the country. Then another one asked me, 'You got a gun on that bike?' I told them no, that I figured it would just get me in trouble to carry a weapon.
"One of them agreed with me — he said, 'Yeah, I got 15 years in the pen for that!'" Roberts said he wondered if these men were escaped convicts, but they told him they were trustys from a nearby prison, who were assigned to help clean up the wreckage.
After that, the talk went a little easier, and a little friendlier, Roberts said. "But then they asked me to come out into the woods to see something. They led me way out there in the middle of nowhere to a clearing. They pulled back a tarpaulin, and there was their 'stash' — the cargo they had stolen from the truck. It was a big heap of Sara Lee pastries and cakes!"
"One of them picked up a box and said, 'Hey, you've got to try this black walnut cake, man, it's great!' But another one said, 'No, don't give him that, let him try the cheese danish, that's the best!'"
At this point in his story Roberts was almost speechless with laughter. "I felt like this wasn't real — here I was, standing in the middle of a forest, listening to hardened criminals argue about the merits of Sara Lee pastries! And stolen ones, at that.
"When I finally took off again, they had stuffed every possible spot on my bike with pastries," he said. "I looked like a rolling advertisement for Sara Lee. I've had some strange experiences, but this one really takes the cake!" he said, laughing and groaning at the terrible pun.
On the last half of his trip, Roberts plans to go across Texas, travel north all the way to Canada, go down the California coast, and spend the winter there. In the spring, he'll head back across the country on a different route, and make it to New England by the following fall. What then?
"Then it'll be off to Europe," he said. Roberts said he plans to do the same thing there, traveling and writing for magazines along the way. After that journey, his travels will have lasted 3½ years.
Passersby stopped to look at the bike and talk with Roberts, some of them commenting that they'd seen him featured on TV recently. "That bike is really something else," one man said.
Roberts laid a hand on the handlebars almost affectionately. "It's not much, but it's home."