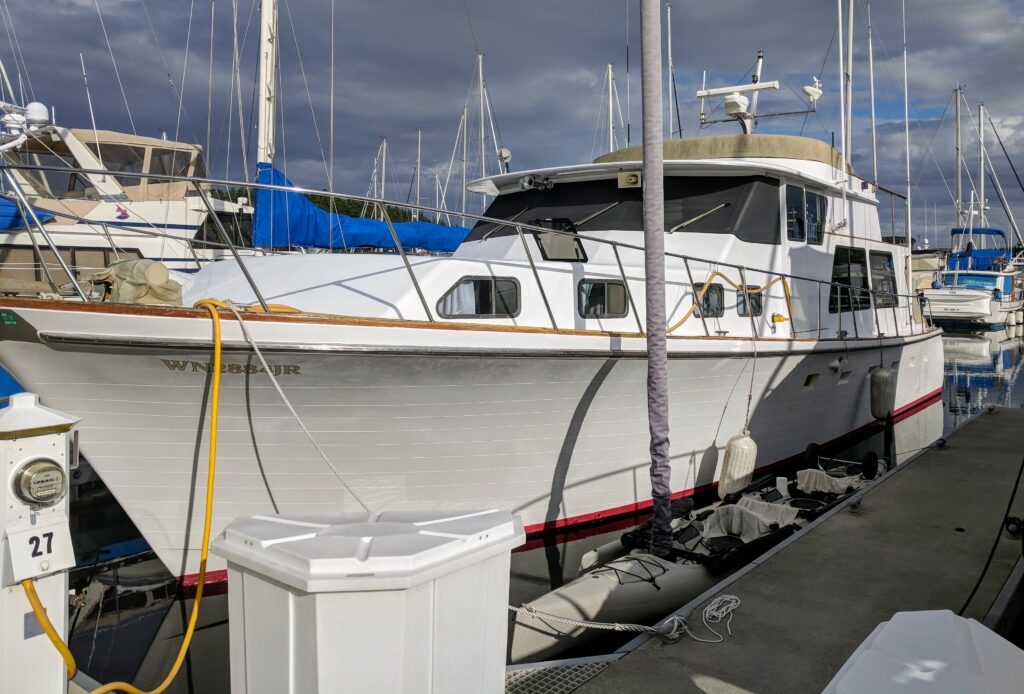 Floating Technomadic Lab/Office for Sale!
Posts in this wide-ranging archive have covered my move to the "Dark Side" – selling my Amazon 44 named Nomadness on the quest for floating lab space. I bought this gorgeous Delta 50 in early 2016, named her Datawake for the "wake of data" streaming astern, then spent four years geeking her out.

This featured an 8-foot lab console that contained all my favorite tools (communications, networking, electronics lab, audio production, workstation, and deployable piano). I needed fabrication space, so I set up a small machine shop under the pilothouse along with a 3D printer. I added various services like a weather station and aircraft ADS-B tracking, integrated virtual reality, and set up a system to digitize my father's ancient home movies… something that soon turned into a business. I installed adjustable bed and bidet, erected a thicket of antennas for ham radio gear, and even gave my cat an illuminated outhouse with carbon air filtration system and webcam.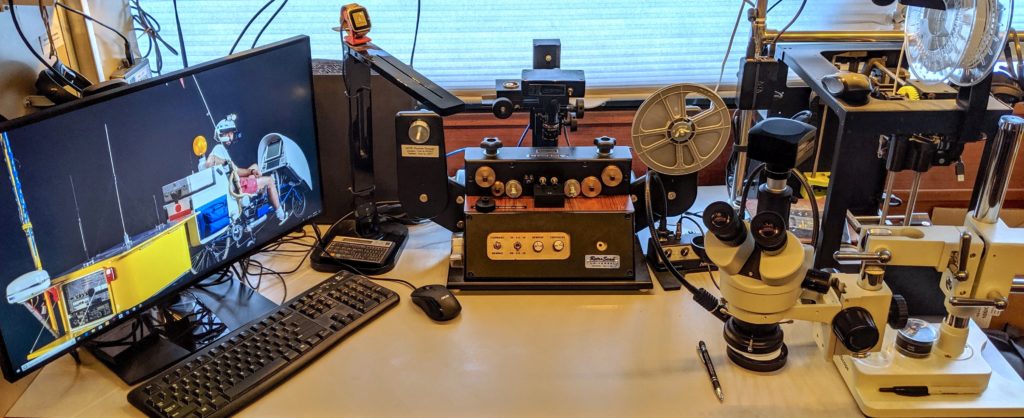 I did lots of geeky boat things, but I never reached escape velocity when it came to the cruising lifestyle.
I waited too long. It would now be massively difficult to take off for a life of open-ended voyaging while publishing tales of adventure, as I have for almost forty years. Time has a way of getting away from ya, and with some biological factors involved, I need to adjust expectations where this boat is concerned.
So I have made a few changes. I set up a 48-foot mobile lab for the media digitizing biz, picked up a 12-foot console inflatable dinghy for sanity-jaunts around the islands, and made the extremely difficult decision to sell Datawake.
A famous 1975 heavy-fiberglass Delta 50 from the Vic Franck yard, optimized for remote work, is now on the market.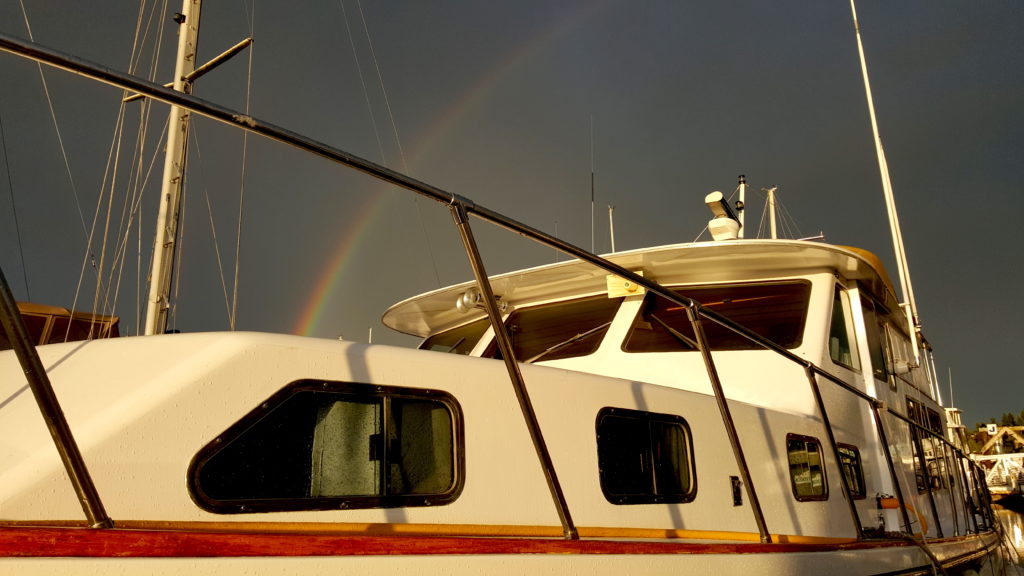 Meet Datawake
Long ago, I did a blog post with this title… and there is no need to re-write the basic walkthrough when most of the fundamentals are unchanged. Here is a first look at the boat from those heady days (the link opens in a new tab so you don't lose your place on this one). It gives a bit of history about the offshore Alaska fishing heritage of the superb Delta boats, quickly introduces my optimistic adventure plans, and includes photos of details including the engine room. There are a few other articles available.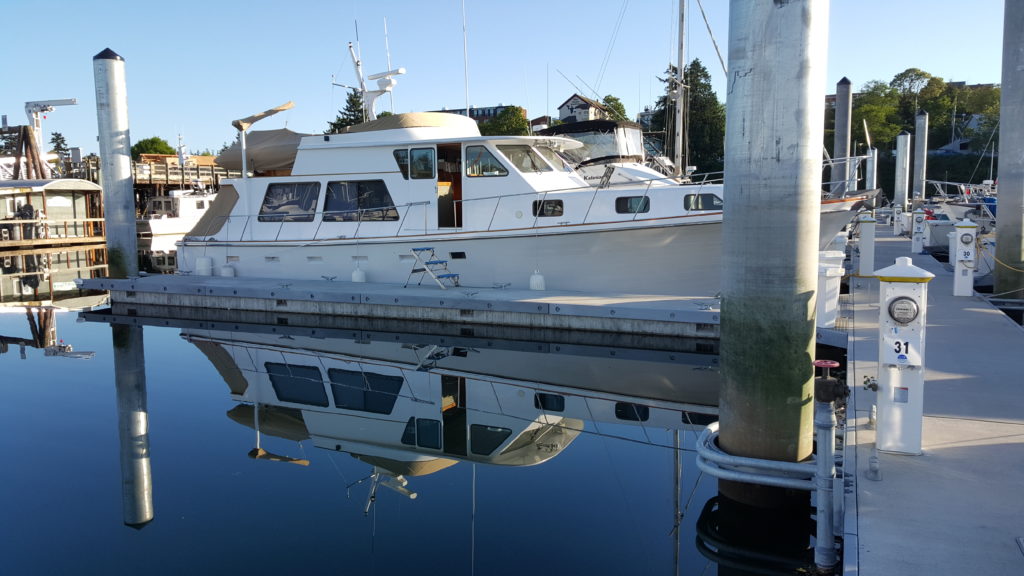 The salon is gloriously spacious, with excellent windows and top-down-bottom-up blinds, so she's a delight when it comes to cruising. This wide-angle shot by Steve Mitchell, taken just after I bought her, gives an idea: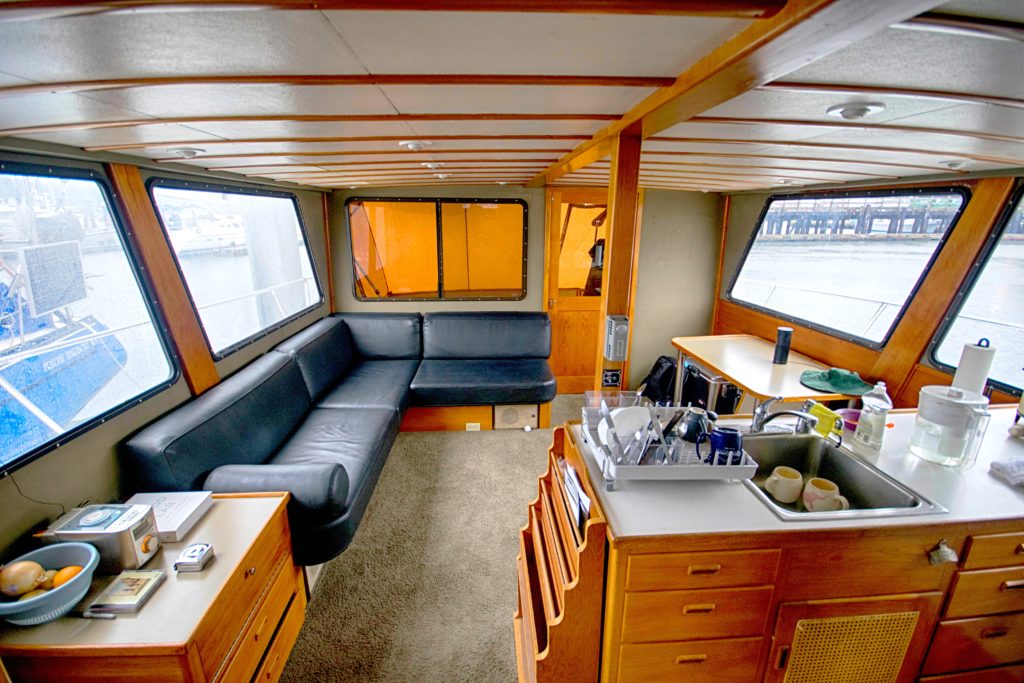 In round numbers, that salon space is 12×12 feet… and is one of the main reasons I chose this boat for my transition to digital nomadics on the Dark Side (I had just sold my 44-foot sailboat). The open area made it possible to build a comfortable laboratory, though the previous owner had a huge L-shaped sofa instead, along with a nice dining table.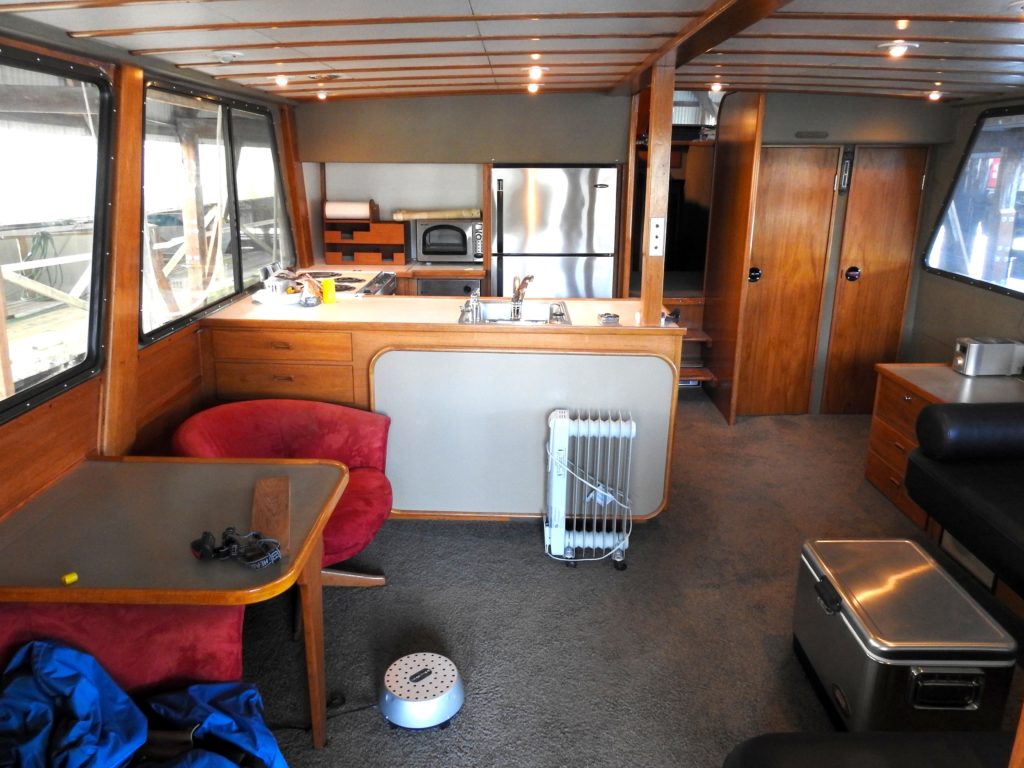 If this ends up going to brokerage or just needs to sit for proper showings, I'll install traditional comfy things… but I'm hoping the new owner is looking for a water-borne office, workshop, studio, production facility, or lab and is interested in something more of a blank slate in the salon department. Are you working at home and yearning to cruise the Salish Sea with a solid net connection and power to run the machines? This is your nautical substrate.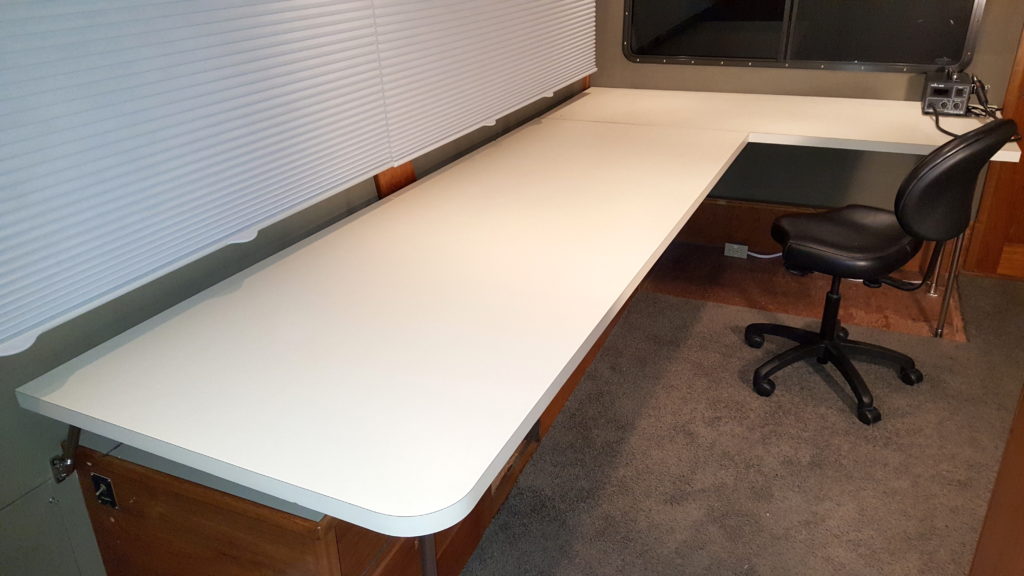 Speaking of machines, the anteroom to the engine room is a sweet little fabrication shop… with benchtop mill, air compressor, tool boards, task lighting, and other goodies. My own tools will go with me, but the space is ready for your shop needs.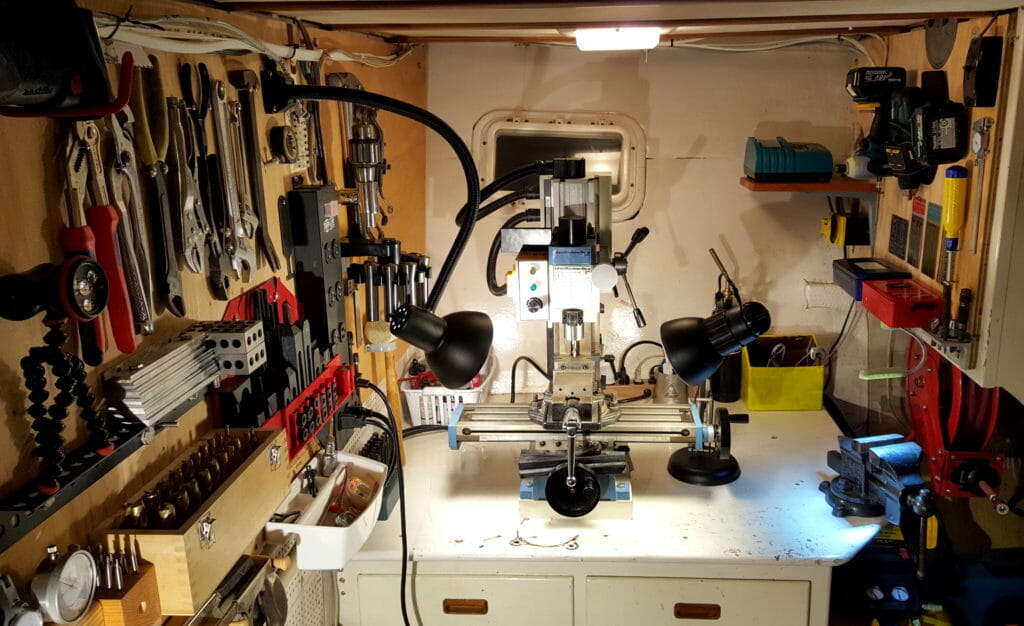 Personal accommodations are sufficient for a live-aboard couple or cruising with crew… there are two private cabins with ensuite heads and showers, 35 gallon holding tank, laundry room, around 400 gallons of water tankage, and electric water heater. One of the macerating electric heads also has a bidet.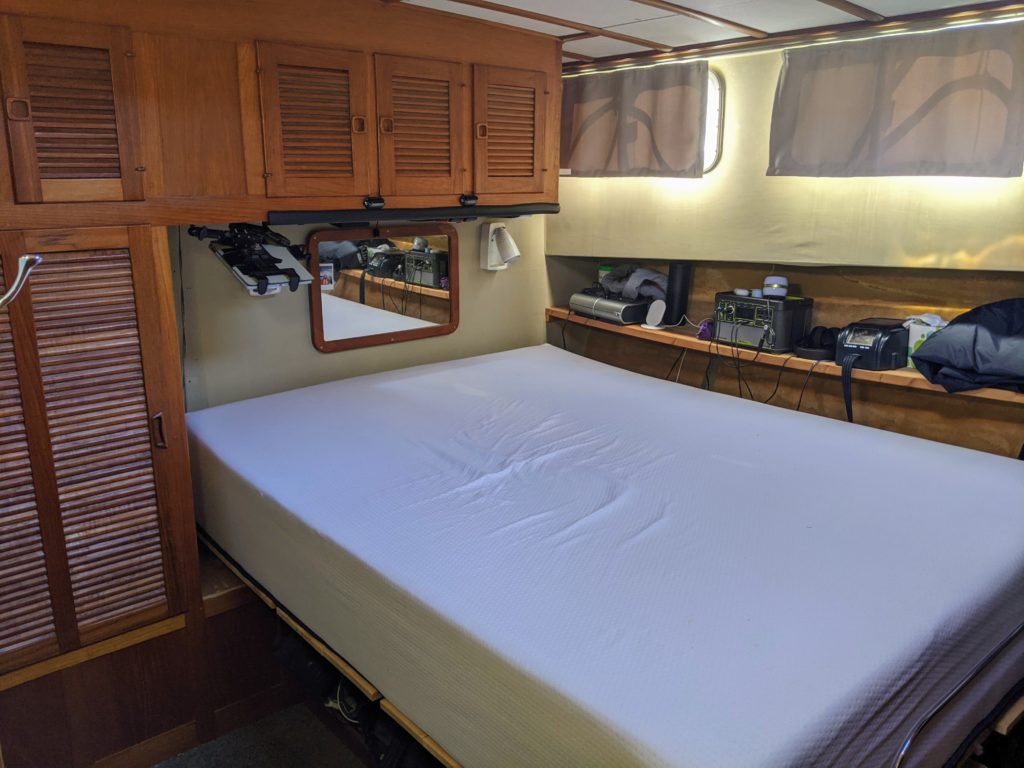 There's a huge and effective beast of a Webasto HL90 diesel furnace as well as in-wall electric heaters and a hydronic system that circulates engine coolant, and the galley borders on domestic-scale with full-size 4-burner stove/oven, large fridge, well-lit pantry, and so on. I installed new bamboo galley flooring, and it is very nice underfoot (that hole on the right used to be a trash compactor, and is now galley equipment storage… plan was to fit an 18″ Bosch dishwasher in there). Philips Hue strip lighting replaced the original halogens, and it is fun to tell Alexa to switch to warm light in the evenings.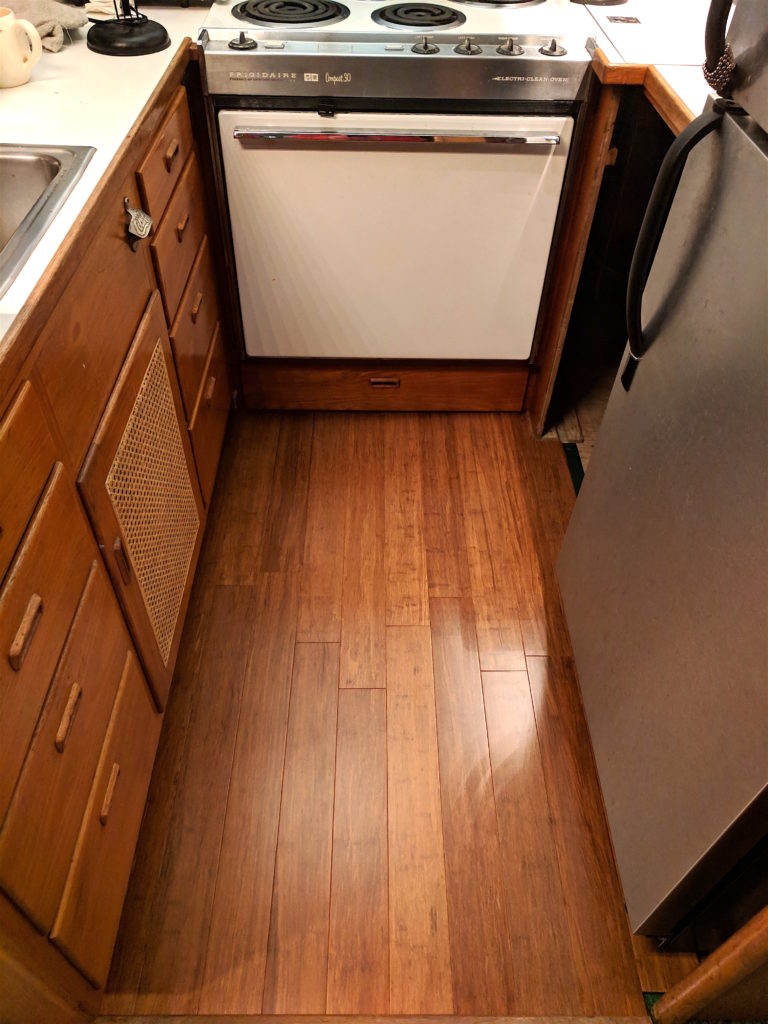 With all the electric appliances, of course the boat has 50A, 240V service… and it is solid other than the 32V house battery bank, which is toast from lack of maintenance. I have never popped a main breaker aboard or on the dock, and the 15KW Cummins/Onan generator (~630 hours) is scaled to match. I recently gave it a Victron smart charger for the new start battery.
Mains are a pair of Cummins VT-903 marine turbos with about 3,290 hours, glorious beasts revered by engine aficionados, with 680 gallons of tankage and dual Racors. I've run them up to temp occasionally in addition to other basic preventive maintenance (zincs, etc) but never really got to know them… as I mentioned, I have not cast off the dock lines since that epic delivery voyage from Anacortes in 2016. Old-timers who have inspected the boat make comments like, "ahhh, these will outlive you — stop screwing around and go cruising!" There's a Micro-Commander system to simplify engine controls… two levers at the helm take care of both throttles and transmissions, and she handles beautifully. The old navigation electronics could stand an upgrade, although I love that classic Apelco sounder.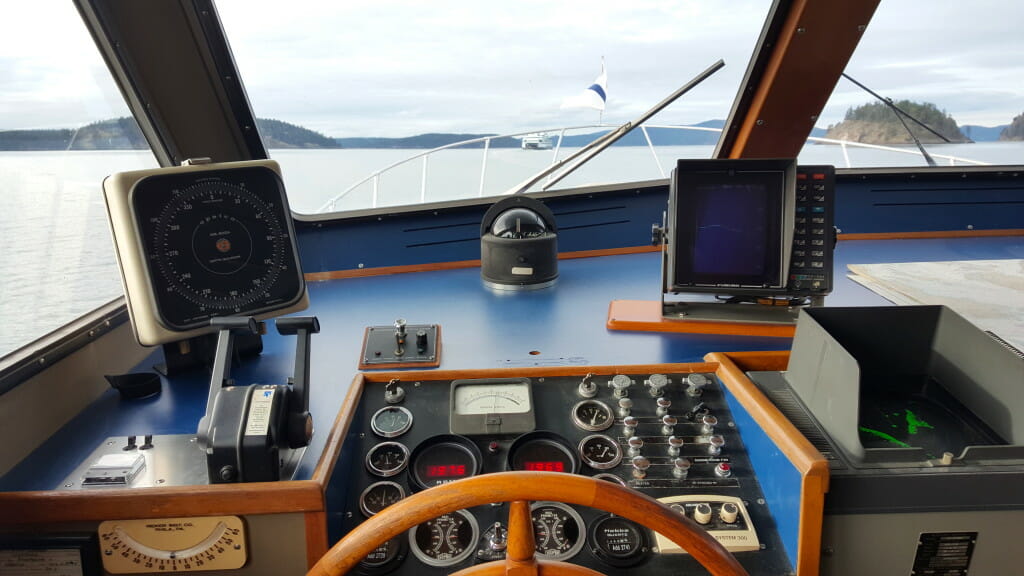 The hull is built like a tank; in the mid-seventies, serious yards like Delta didn't skimp on fiberglass, and the layup is gorgeous thick woven roving. There are bulkheaded compartments below-forward for sewage and waterworks, a huge lazarette below the afterdeck for genset and stowage, and a lovely upper deck with another helm station. Engine stringers are huge, and were not cut away for mounts as is often the case when trying to maximize headroom. And speaking of that, I'm 6'4″ and find the boat comfortable… this was a huge deal for me when I was shopping.
This photo is from the boatyard during my survey, though after sitting for more than four years, the hull is not this pristine… she'll absolutely have to be hauled and bottom-painted.
I'm including a 12-foot Achilles RIB, crane-deployed from a nest on the upper deck. The 15HP Honda engine was serviced in mid-2020, and the dinghy is nowhere near as pretty as it is in this old photo: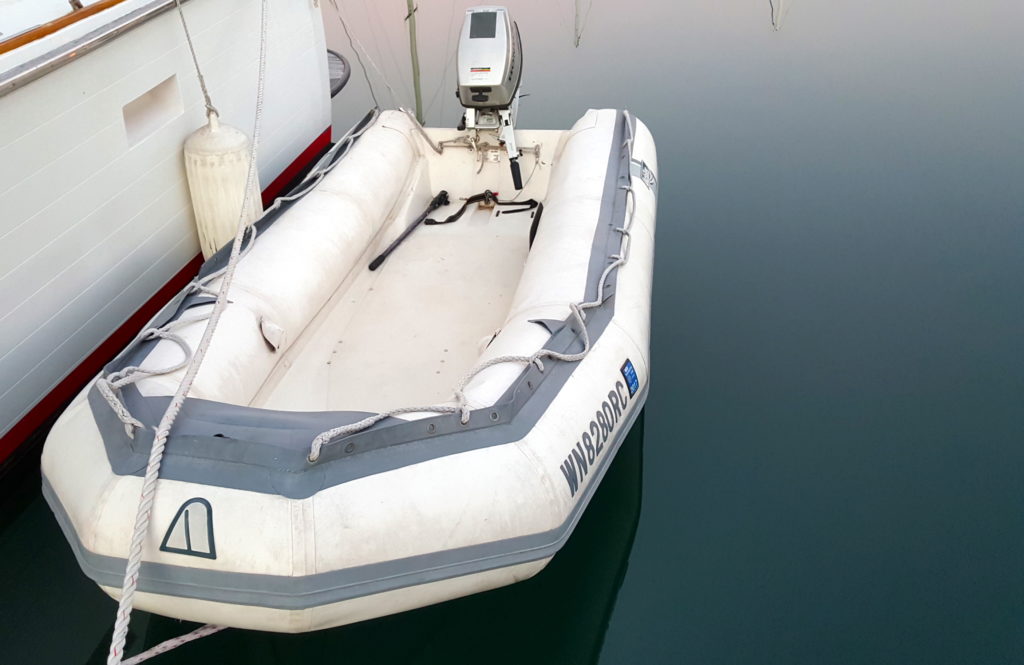 Datawake is USCG documented although I didn't keep up and that's currently expired… but can be renewed. I've never gotten around to adding name and hailing port graphics. (The previous name on the transom has been removed).
If you're looking for a beautifully constructed 50-footer for year-round Pacific Northwest cruising, nautical geekery, or living aboard while working remotely, this 50-foot Delta is a definite head-turner. She needs lots of TLC top down, starting with a pressure wash and good scrub. Because of deferred maintenance, I am putting the price at $90K, as-is and where-is, half the 2020 survey value of $180K.
With recent very scary health issue I need to get the boat to her new home before the end of this year. This should go to someone who knows the value of a Vic Franck Delta 50 and has the energy (and money) to bring her back into prime condition. Local help is available. She could be cruised, or resold at a price that more accurately reflects her value.
You can reach me via the contact form if you'd like to know more or see additional photos… and she can be viewed in Friday Harbor by appointment.