Computing Across America book review – The New Voice
This review had a most interesting effect… it brought my mother around, though somewhat grudgingly, to loving my book. When she first read it, she was aghast at the undeniable evidence that her little boy could be a naughty and occasionally vulgar risk-taker, doing things that one speaks of only in whispers, and sleeping in the homes of total strangers on top of all that! Yes, yes, distant computer magazines found it wonderful, but half of them are in California… so of course they would fawn all over a high-tech bum. Harumph.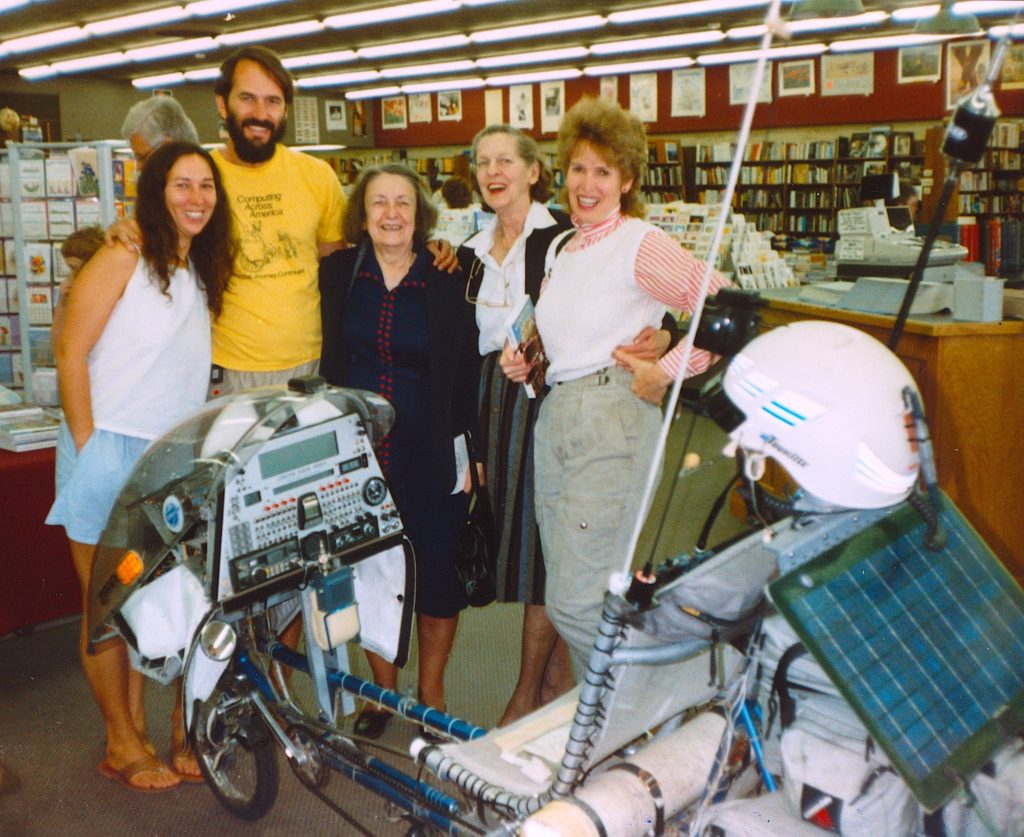 Then, without warning, her trusted home-town Kentucky newspaper book reviewer gets her hands on a copy of Computing Across America and loves it. What's a mother to do? Why, sigh with resignation and write me a sweet letter, enclosing a clipping… what else?

Computing Across America
book review by Mary Caldwell
The New Voice
April 27, 1988
Do yourself a favor.
Go to the nearest bookstore, put down a ten-spot and tax, and take off on the wildest, most exhilarating ride of your life with Steve Roberts. The title of his book, Computing Across America, doesn't even begin to give the faintest hint of the joys within its covers.
Roberts, whose parents, Phyllis and Ed Roberts, live in Jeffersontown, is spiritual and literary heir to Jack Kerouac, William Least Heat Moon (Blue Highways), Robert Lewis Taylor (The Travels of Jaimie McPheeters), John Steinbeck, a dash of Hunter Thompson. What the heck, let's throw ol' Walt Whitman in there too.
Roberts uses a crazy recumbent bike and computers, but he's tuned in with the rest, oh, yes.
Lapsed husband and father, Roberts freely admits that his lust for the open road precludes lasting relationships, although by the end of the book, he seems to have the best of both worlds, for the moment, anyway.
Roberts was living a respectable bachelor's life near Columbus, Ohio in a respectable house in a respectable neighborhood. He is apparently something of a computer genius and a dedicated biker.
Suburban life palled, the job grew dismal and Roberts fell in love with the idea of traveling across the country on the craziest bike you ever saw, a little home on wheels complete with solar energy.
To support his lifestyle, he writes for magazines, newspapers, whatever medium will send an occasional check. The outgo and income are rarely in synch, so much of his time on the road is spent charming his way into college dorms, a pretty girl's kitchen and very often her bedroom, and for the most part, he manages nicely.
His experiences range from frightening to hilarious. He falls in love with a girl through computer courting, only to discover "she's" a guy. A gang of convicts scares him with their looting of a crashed truck until he finds out their stash is a bunch of Sara Lee products.
He sweeps through windstorms and soft mornings; dangerous highways peopled with surly rednecks and spectacular sunsets at Key West. The honky tonk of New Orleans and Las Vegas, the dusty roads of Texas, San Clemente and finally Los Angeles find the reader as spent and excited as the author, distressed that the journey is over.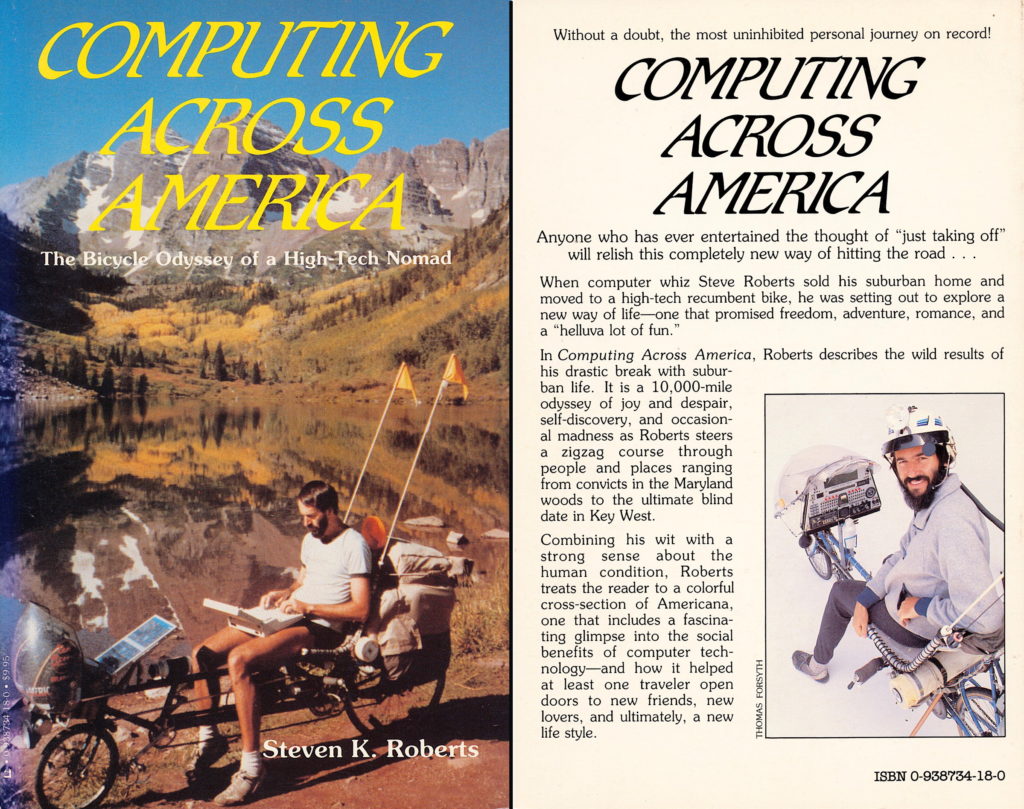 Roberts, of course, is not ready to settle down, so there should be another book before long, and that's wonderful news. He suffered a terrible case of acute alliteration on page 147, and there are a few grammatical errors – although fewer than in most books these days, but make no mistake, the man can write. He's funny and raunchy and in touch. He understands more about the rhythmic harmony of the universe than a dozen preachers and philosophers.
Roberts attended Seneca High School and Country Day here and Rose Poly in Indiana. He was home recently to visit his parents, appear on television and autograph books. There's no telling where his restless gifts will take him next. Call him a bum, call him a fickle lover, call him an athlete – but above all, call him a writer. This book is irresistible.
Further Notes
Mary Caldwell published two brief updates during the following year:
The author of this review picked up her copy at Hawley-Cooke bookseller in Louisville on April 9, 1988… during my book-signing event with the bike on display:
Since I mentioned my mother's reaction above, this seems as good a place as any to place the card she sent me. Between March 3 and the review above, her correspondence (and a phone call) were fairly distraught, with grudging admission that she found it fascinating but damn, son, did you really have to admit having sex with those women… not to mention some pretty obvious hints about doing other things we won't talk about? THIS WILL GO ON YOUR PERMANENT RECORD! <grin> Knowing her, I do understand how it might have been a bit challenging in spots… so here's a big posthumous thumbs-up for bravely dealing with what must have been hard for a mom.