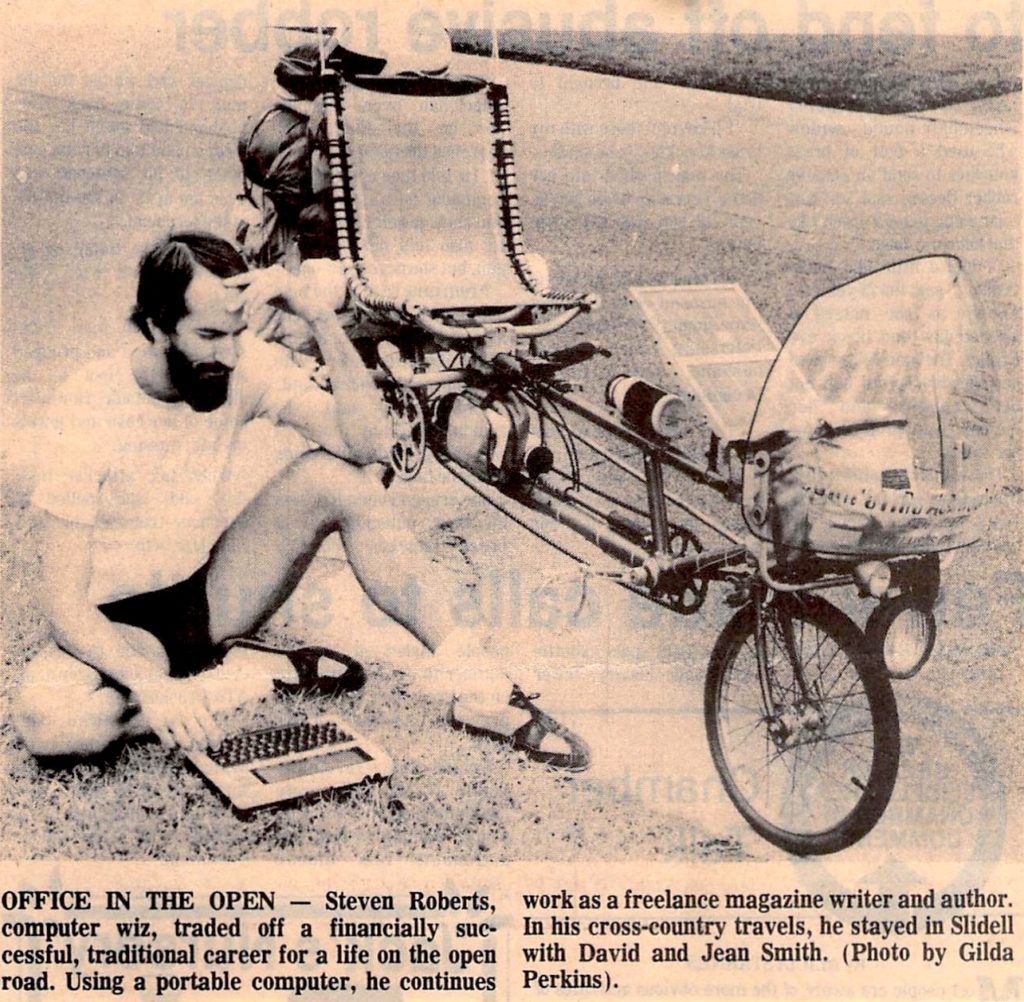 High-tech nomad in Slidell – 1984
One of my fond memories of Slidell was getting a tour of the National Weather Service facility… which ended up becoming a chapter in the Computing Across America book. This is the local newspaper coverage of my visit to town in April, 1984… a couple of others are here. Timeline date adjusted to compensate for publication delay; by the 13th, I was in Hammond.

by Gilda Perkins
Slidell Daily Sentry-News
April 11, 1984
SLIDELL — Steven Roberts, by normal standards, used to be a successful man.
By age 28 he owned a successful computer computer business, was lauded as a freelance writer with articles appearing in Popular Science, Mechanics Illustrated, and Writers Digest and was sought after for the lecture circuit as a "futurists" speaker on artificial intelligence.
On the flip side, Roberts owned a typical Columbus, Ohio, three-bedroom brick home and maintained a fairly active social life. His parents, in their 70s, offered him every personal opportunity since they adopted him at the age of one month.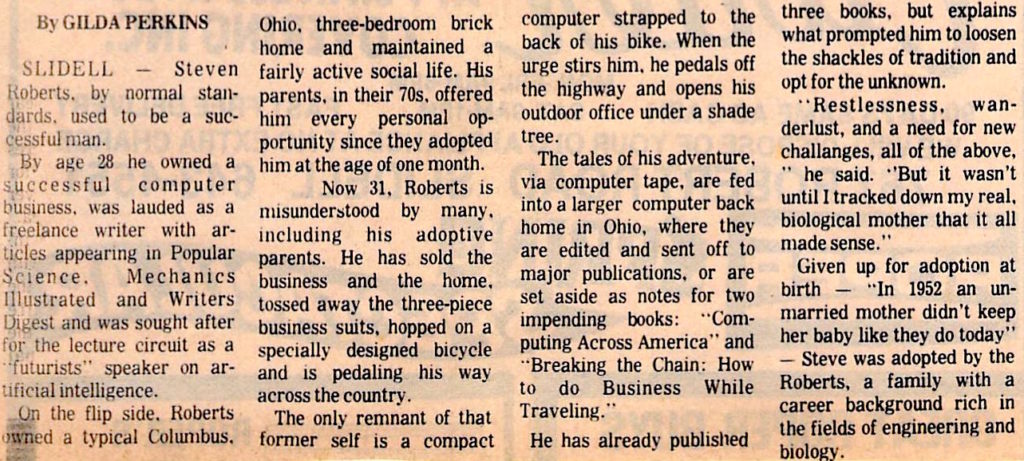 Now 31, Roberts is misunderstood by many, including his adoptive parents. He has sold the business and the home, tossed away the three-piece business suits, hopped on a specially designed bicycle and is pedaling his way across the country.
The only remnant of that former self is a compact computer strapped to the back of his bike. When the urge stirs him, he pedals off the highway and opens his outdoor office under a shade tree.
The tales of his adventure, via computer tape, are fed into a larger computer back home in Ohio, where they are edited and sent off to major publications, or are set aside as notes for two impending books: Computing Across America and Breaking the Chains: How to do Business While Traveling.
He has already published three books, but explains what prompted him to loosen the shackles of tradition and opt for the unknown.
"Restlessness, wanderlust, and a need for new challanges, all of the above," he said. "But it wasn't until I tracked down my real, biological mother that it all made sense."
Given up for adoption at birth — "In 1952 an unmarried mother didn't keep her baby like they do today" — Steve was adopted by the Roberts, a family with a career background rich in the fields of engineering and biology.
He began to search for his mother three years ago after restlessness had already planted the cross-country traveling odyssey in his mind.
Three intensive months of tracking her down through institution records led him to a phone call and his mother.
"I thought it would be easier that way," he said. After she admitted she had a baby on the day he was born, "I had to tell she should see how her baby had grown," he said. [the story of this reunion is a chapter in Shadow Mothers by Linda Back McKay]
After a tearful, emotion-charged reunion and introduction to seven brothers and sisters and dozens of new relatives, Roberts says he now realizes why he is restless. Biologically, his family consists of artists, writers and travelers.
"I had a great-grandfather who pushed off in a one-man boat from Chicago in 1908, for a trip down the Mississippi," he said, adding that his own trip across the country doesn't seem so strange.
He says his real mother understands his trip, while his adoptive parents think he's a little bit crazy and are terrified of the change.
Roberts had a special bike custom-designed to accommodate his 6-foot-4 frame. He equipped it with a solar panel to capture energy to charge a battery that keeps a series of lights operating, a burglar alarm activated, CB radio functioning and a loud warning horn supplied with energy.
He also designed the bike with handlebars under the seat to put him in a relaxed, more natural position than the hunched shoulder racers bikes.
A few other extras Roberts has on his bike include a tape system that allows him to dictate ideas while traveling an estimated 16 miles per hour.
Following a 760-mile shakedown trip, Roberts left Ohio last September and has traveled the east coast to Key West, Fla., jumped on a 36-foot racing yacht and scooted up the Gulf of Mexico to Clearwater, Fla., then headed to Slidell, where he stayed with David and Jean Smith.
Having covered 4,312 miles to date, he's now heading to the California coast and then back home sometime next year or in 1986. Time means very little to him.
Notable events along the way have included the night he spent in the girl's dorm at the University of Florida, and the work crew of convicts he ran into, in the Maryland woods who wanted to know if he had a gun on his bike.
Roberts says he probably will write about his visit to the Slidell National Weather Service office.
"I was impressed with the computerization of the weather forecasting system." he said.
He said the future includes meeting people, experiencing life first-hand and putting it all together in books — as well as the possibility of other trips.
"Possibly I'll compute my way across Europe, if I don't get tired of the idea on this trip," he said.
And he speaks of the possibility of a return to the more structured existence he once knew.
"Financially, I could very comfortably earn an excellent living in the computer field, but personally, it would be very hard to go back," he said.
What surprises people most about his trip?
"The fact that I have to consume 5,000 calories a day in order not to lose substantial weight. Girls, especially, are taken aback by the high caloric count of my diet," he said.
"Some people think I'm crazy. Many older folks think I'm a bum. College students are the most understanding," Roberts said. "But in every age group, every now and then I run into a person who envies me. You can see it in their eyes — they too would like to get away from the traditions and just take off on their own fantasy bike ride."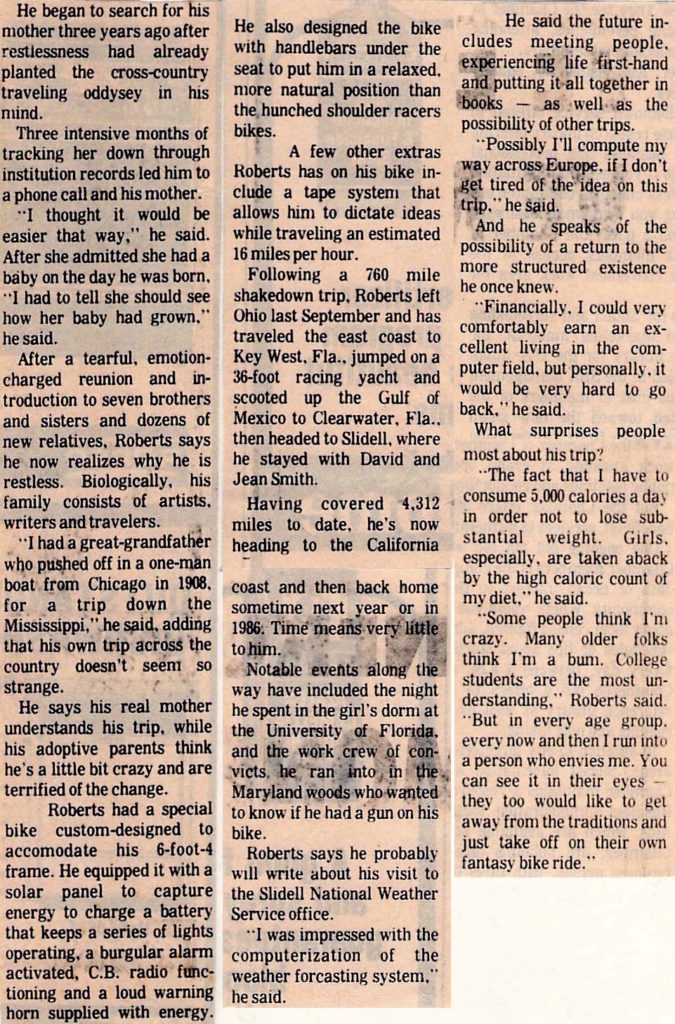 You must log in to post a comment.