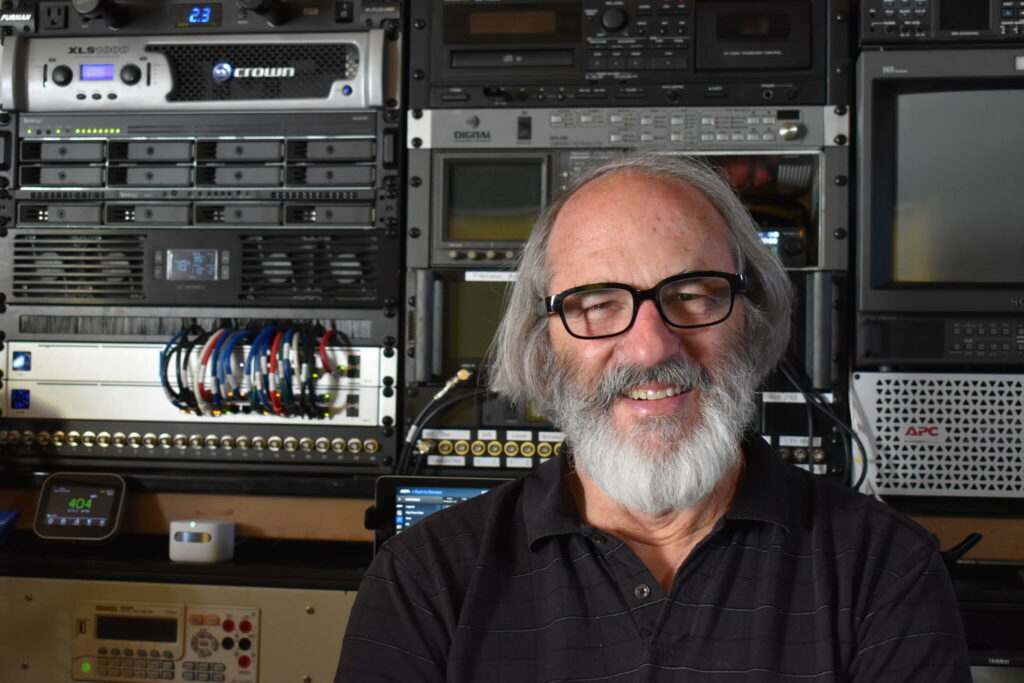 Wizard with a Time Machine
By Kelley Balcomb-Bartok
Journal of the San Juan Islands
July 19, 2022
Located in an unassuming building in Friday Harbor is a magical place inhabited by a wizard of technology bringing history back to life for clients and friends. Steven K. Roberts is his name, digitizing old films, videos and slides is his game.
Harbor Digitizing, established in 2018 by Roberts, began as a personal project when he inherited a collection of 8mm movies taken by his father between 1936 through the 1970s. Within the collection, along with footage of his family, surfaced early footage that Roberts recognized had "considerable historical value."
Roberts spent a considerable amount of time researching an overwhelming range of conversion technology that would suit his needs and technological skills. Following an obsessive amount of research into professional digitizing tools and technologies, according to Roberts, "I realized that the collection was large enough to justify buying my own system," which ultimately led Roberts to start Harbor Digitizing.
As Roberts continued to refine his system, in 2018 he decided to set up shop in Friday Harbor and offer his services to the public. Since that time Roberts has upgraded and added equipment which now allows him to scan and digitize everything from 8mm/Super 8 to 35mm film, slides, negatives, and nearly every video format known to man. "I can handle just about any home movie format," says Roberts.
The wonder of this is, with his ability to transfer nearly every film and video format Roberts has the ability to scan every frame from old movie film into high-resolution images, converting them to a digital format which can be easily viewed on any computer. Roberts provides clients with thumb-drives that contain priceless images of family, friends, history, and more.
"When clients come in to see their old family films, sometimes for the first time," says Roberts, "it takes people back to their childhoods. For example, one client came in with film shot back in 1937. The old film was not in encouraging condition, it was brittle and cracked, but I managed to run it through the system. It was a film of his sister, and as he watched it unfold he got teary and was transformed to a little boy seeing his sister like it was yesterday."
"In most businesses where there are tears involved that's a bad thing, but not in my business," says Roberts. "I just love it when I see people cry… it's a trip through time that I help facilitate. I'm able to take you back to your own personal history. It's like using surgical tools to get at people's memories, their emotional metadata."
"He's truly a wizard," says island resident Fred Felleman of Roberts, "a personable wizard with amazing skills." Felleman recently had Roberts digitize dozens upon dozens of old family videos he'd shot decades ago and had been 'meaning to get to' for quite some time.
For Roberts, he is concerned that history is being lost as people get old and pass away, leaving behind boxes of film or slides, some not knowing what's on them or what to do with them. "It's fascinating because everything I pick up is a time capsule. Otherwise, it just sits in a box and when people die it goes with them. On a larger scale, it might be just a kid opening a Christmas present. For us, it's just a kid, but for some it takes them back in time."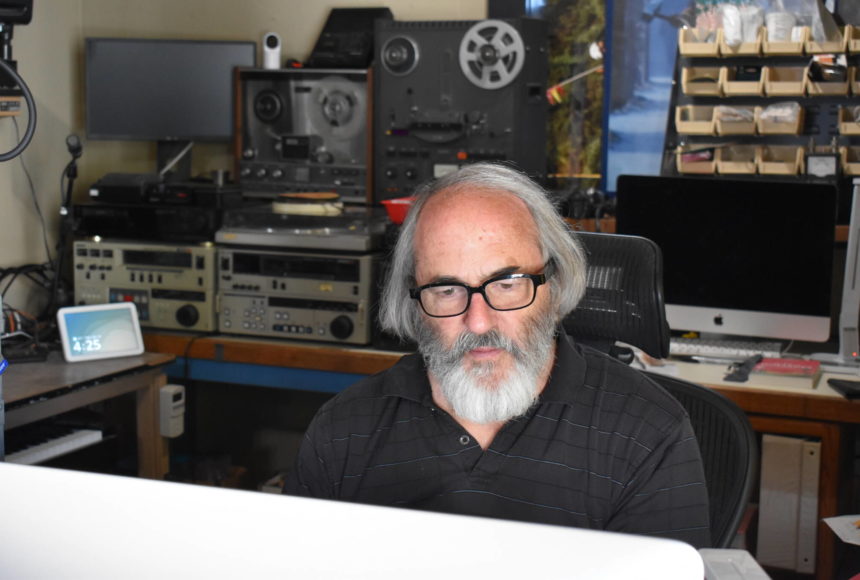 In other cases, historically significant footage surfaces. Roberts keeps a keen eye out for things of significance. One example Roberts shares was Pan American footage that Roberts shared with the Pan Am Museum Foundation in Garden City, Long Island. "The people at the Pan Am Museum were thrilled," says Roberts.
Roberts spends nearly every day in his lab, not because he has to but because he genuinely enjoys it. "It doesn't feel like work, it's just stuff I get to do."
From a technical standpoint, it's a long learning curve, Roberts explains, with a million little details. "Fortunately for me it's fun,' adds Roberts. "It's intrinsically fun. There I am back in the '70s, or wherever I find myself. I find it fascinating, and fun on so many levels."
The Original Technomad
Roberts has an equally interesting history, besides his current role as a film archivist.
Roberts is considered the first Digital Nomad, or "Technomad," designing and building a bicycle complete with built-in computers and network systems — think today's cell phone — powered by solar panels, back in 1983. His first design, the Winnebiko, provided Roberts with a human-pedaled mobile machine that opened up new horizons for the young inventor.
"What I thought would be a bicycle tour quickly became a career," says Roberts, "and this dovetailed perfectly with the rise of laptops and online services… which were my essential tools, along with a custom recumbent and solar panels."
The media fell in love with Roberts' invention, drawing a lot of attention to the inventor and his creation, so he penned a book Computing Across America documenting his high-tech escapades across 10,000 miles of the country.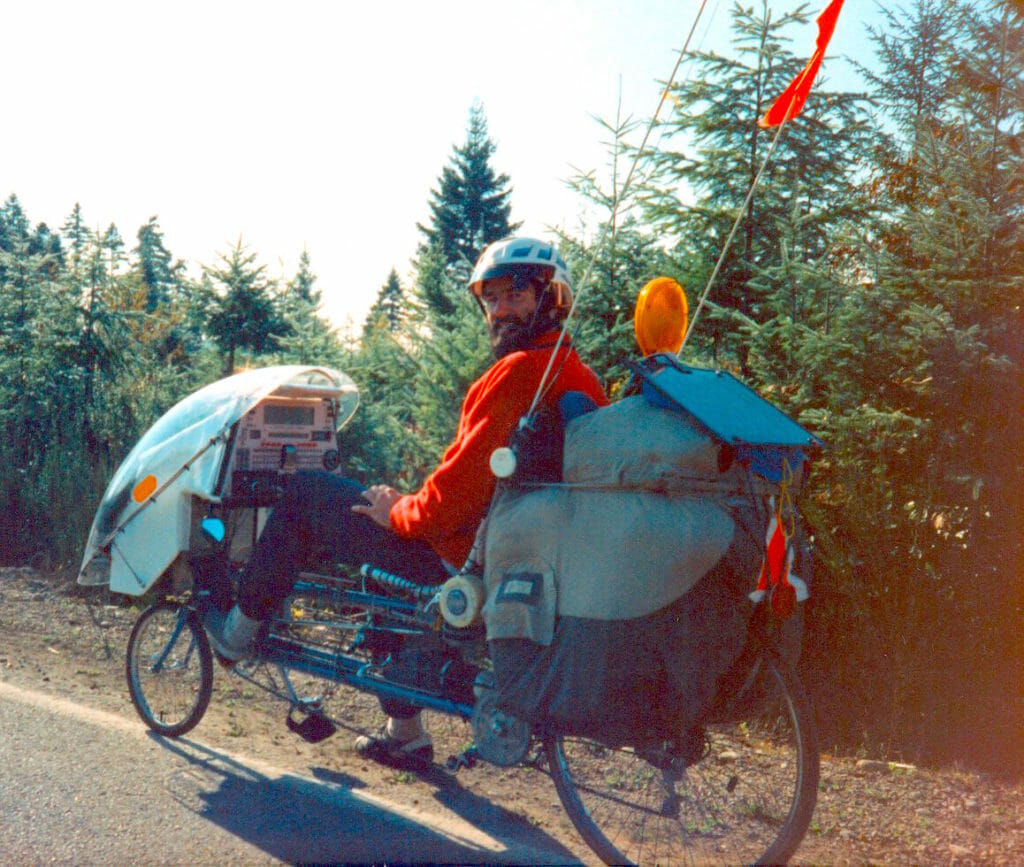 Roberts' next iteration of his mobile computing device was Winnebiko II, built in 1986. According to Roberts, "What fun is a computerized bicycle if you can't write while riding? That was the original design goal for this new version, which also included packet data communications via ham radio. The combination led to the first 'texting while driving,' along with new frontiers in nomadic connectivity that were beginning to render my physical location irrelevant."
"It was inevitable," says Roberts, "extrapolating from the first two, I had no choice but to build a geek extravaganza of mobile computing tools." BEHEMOTH — so named because it was a 580-pound, 105-speed monster — was the culmination of three years of work and was valued at the time at an estimated $1.2 million dollars. The project, completed in 1991, was hosted by Sun Microsystems, and according to Roberts "integrated multiple computers, satellite communications, heads-up display, head mouse, multimode ham station, speech synthesis, cellular, and lots more…"
BEHEMOTH, the world's first unixcycle, now resides in the Computer History Museum in Mountain View California.
"After 8 years of computerized recumbent bicycle adventures," says Roberts, "it was a bit of a shock to hit the road in 1991 on BEHEMOTH and find myself fantasizing about watercraft. I was pedaling a showcase of gizmological delights that by some estimate was worth $1.2 million… but it was time for a change of venue and I was obsessed with building a geeked-out boat."
To build his dream boat — an amphibian pedal/solar/sail micro-trimaran — Roberts needed a lab. In the early '90s, Roberts taught an engineering projects course in trade for lab space at UC San Diego, then landed a donated lab at Apple, before relocating to the Pacific Northwest where he built a 3,000-square-foot building on Camano Island in 1998.
While on Camano, Roberts became enamored by the inland waters of the Pacific Northwest, sailing first a Corsair 36 trimaran to Desolation Sound before upgrading to a 44' steel Amazon he named Nomadness. He lived aboard Nomadness working on projects for the next seven years.
In 2012 Roberts moved both his boat and lab to Friday Harbor, eventually selling the boat in 2016 before opening Harbor Digitizing in 2018. For Roberts, even after decades of media and public attention, along with wizard-like accomplishments in life, he retains a youthful and exuberant enthusiasm for his work. He truly loves what he does, and it shows.
---
Note: I made some minor edits for accuracy in the above text. The original article is in the Journal of the San Juan Islands or readable below (click to embiggen).