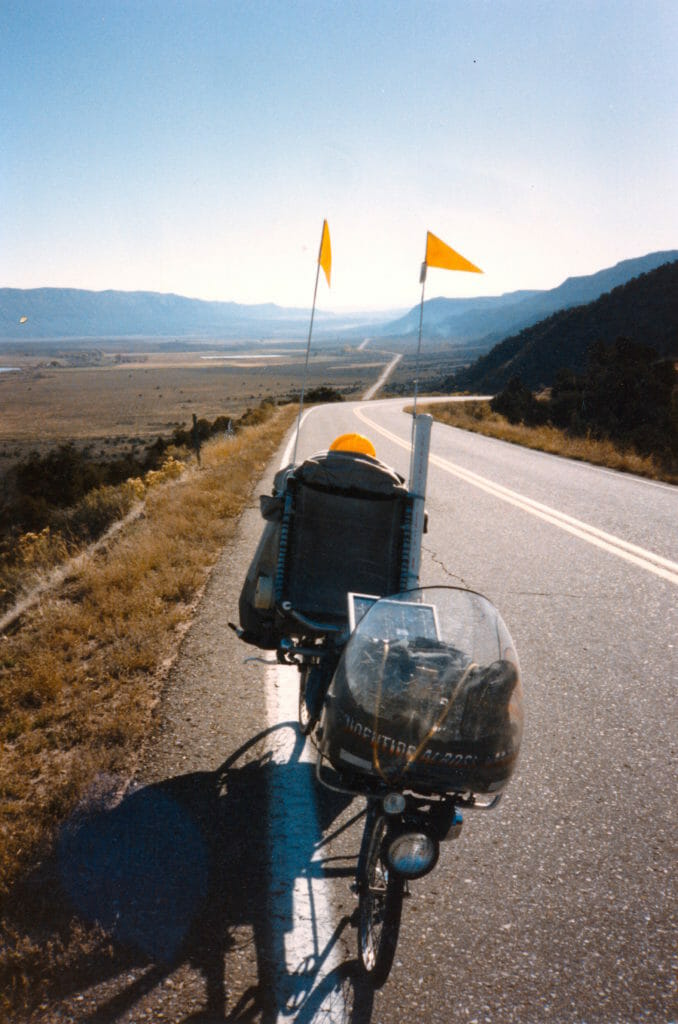 Cycling Speaker Writes on Road
I left the bike in Telluride and flew cross-country to speak at the Carolina Computer Expo in Charlotte. Here is a snippet from the book…
A life online is a life outside the strictures of physics—at least the conventional physics that make a country seem big. The network is a village shaped like a map of North America, a place populated by specters and ghosts, travelers in time and space. The physical reality of nodes and satellites is a forgotten substrate, a thing no more in our consciousness than the earth's mantle.
I live there as much as I live here. Since "here" keeps changing, "there" has become home.
Geography falls apart online. It's an odd contrast: I am living two dramatically different lives. One is visceral, sweaty, attuned to every hill and headwind. The other is ethereal, intellectual, an electronic interlocking of imagination and communication. I am at once a being of cloud and soil, satellite and bicycle; I can drop a thought from the sky onto Baton Rouge while patting a white samoyed named Fluffer in a snowed-in Telluride house trailer. No problem.
And speaking of the sky …
I took to it when I accepted a speaking engagement at a North Carolina computer show— an act absurd, given the fact that the point of a "talk" is to impart information. Information weighs nothing and moves at the speed of light. It seemed a curious way to deliver words, but I put my whole body on an airplane and flew east.
The flight was confusing, oddly serene. I glided with only a hint of turbulence over passes that had been full afternoon's projects on the bike. I gazed down on mysteries, the Rockies enchanting at every level of magnification from fractal patterns of jagged peaks to the surprisingly combed appearance of forested snowy slopes. Rivers glittering through the snow looked like microtomed and magnified sections of something biological; whole basins lay undisturbed by ancient upheavals while corniced ridges told of nearby violence.
And I could sense in the air around me the presence of my network friends, dancing in playful alacrity like gods—somewhere, nowhere, everywhere at once.
Downtown Charlotte was a shock after Telluride. What wasn't sleek and new was seedy; flashy glass showpieces of urban architecture sprouted from the squalor like new trees from the compost of the past. Quiet old neighborhoods lay in the interstices of franchise strips and bus lines. It was hot and muggy. But the people were friendly, service was gracious, and the time away from my Colorado home was surprisingly undisruptive.
Only the information to my senses had changed, you see. Life on the network continued as before.
This led to an amusing encounter when I was chatting with friends on CompuServe CB from my hotel room and needed to order room-service beer… leading to this story in USA Today.
Anyway, with that long intro to set the stage, here is the local newspaper coverage in Charlotte…
Cycling Speaker Writes on Road
Charlotte Observer
October 23, 1984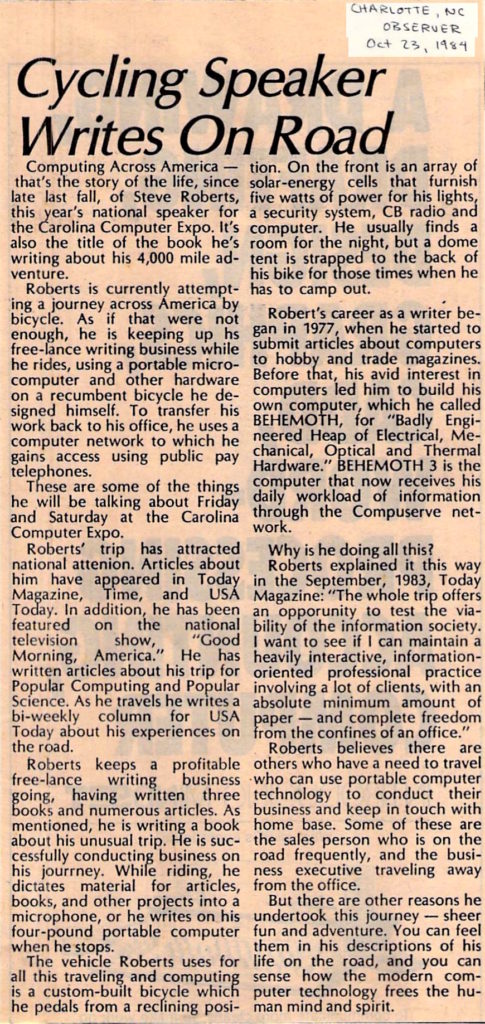 Computing Across America — that's the story of the life, since late last fall, of Steve Roberts, this year's national speaker for the Carolina Computer Expo. It's also the title of the book he's writing about his 4,000 mile adventure.
Roberts is currently attempting a journey across America by bicycle. As if that were not enough, he is keeping up hs free-lance writing business while he rides, using a portable microcomputer and other hardware on a recumbent bicycle he designed himself. To transfer his work back to his office, he uses a computer network to which he gains access using public pay telephones.
These are some of the things he will be talking about Friday and Saturday at the Carolina Computer Expo.
Roberts' trip has attracted national attention. Articles about him have appeared in Online Today Magazine, Time, and USA Today. In addition, he has been featured on the national television show, "Good Morning, America." He has written articles about his trip for Popular Computing and Popular Science. As he travels he writes a bi-weekly column for USA Today about his experiences on the road.
Roberts keeps a profitable free-lance writing business going, having written three books and numerous articles. As mentioned, he is writing a book about his unusual trip. He is successfully conducting business on his journey. While riding, he dictates material for articles, books, and other projects into a microphone, or he writes on his four-pound portable computer when he stops.
The vehicle Roberts uses for all this traveling and computing is a custom-built bicycle which he pedals from a reclining position. On the front is an array of solar-energy cells that furnish five watts of power for his lights, a security system, CB radio and computer. He usually finds a room for the night, but a dome tent is strapped to the back of his bike for those times when he has to camp out.
Roberts' career as a writer began in 1977, when he started to submit articles about computers to hobby and trade magazines. Before that, his avid interest in computers led him to build his own computer, which he called BEHEMOTH, for "Badly Engineered Heap of Electrical, Mechanical, Optical and Thermal Hardware." BEHEMOTH 3 is the computer that now receives his daily workload of information through the CompuServe network.
Why is he doing all this?
Roberts explained it this way in the September, 1983 Online Today Magazine: "The whole trip offers an opportunity to test the viability of the information society. I want to see if I can maintain a heavily interactive, information-oriented professional practice involving a lot of clients, with an absolute minimum amount of paper — and complete freedom from the confines of an office.
Roberts believes there are others who have a need to travel who can use portable computer technology to conduct their business and keep in touch with home base. Some of these are the sales person who is on the road frequently, and the business executive traveling away from the office.
But there are other reasons he undertook this journey — sheer fun and adventure. You can feel them in his descriptions of his life on the road, and you can sense how the modern computer technology frees the human mind and spirit.
You must log in to post a comment.