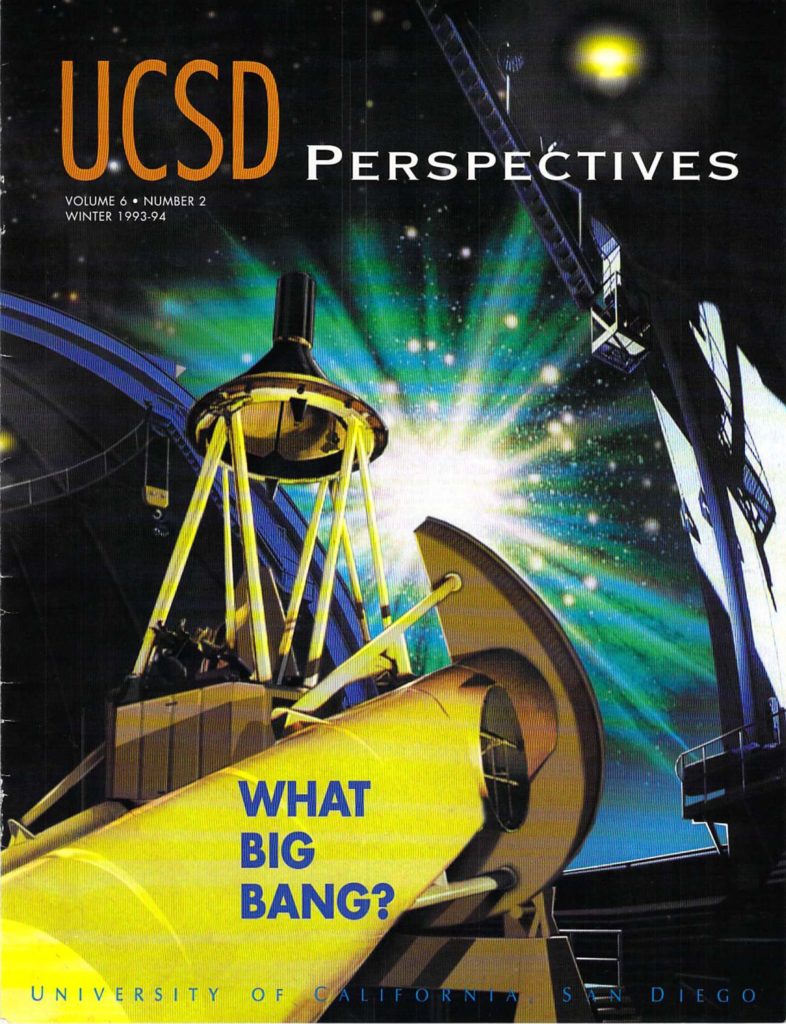 Down to the Sea in a Digital Canoe – UCSD
As the 1993-94 school year got underway, the Microship project at last had a home… in the engineering building at UCSD. In exchange for teaching a projects class around the boat as unpaid adjunct faculty, I had a lab and teams of students. This was perfect, and was the beginning of a 2-year epoch. Perspectives focuses on current research and other activities involving all parts of the University of California, San Diego, and is produced by the UCSD communications office. This article introduced me to the community, and helped cement the relationship. By the time this came out, the design had stabilized into something a bit larger… a detailed article about it appeared in IEEE Potentials.
by Warren Froelich
UCSD Perspectives
Winter 1993-94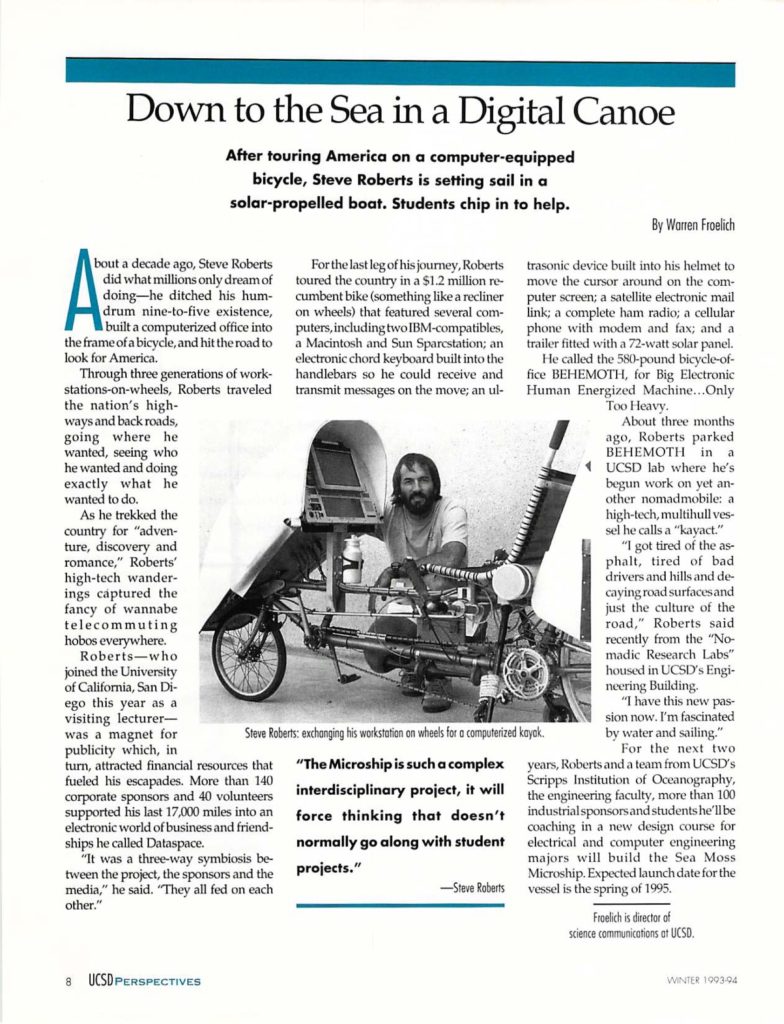 About a decade ago, Steve Roberts did what millions only dream of doing — he ditched his humdrum nine-to-five existence, built a computerized office into the frame of a bicycle, and hit the road to look for America.
Through three generations of workstations-on-wheels, Roberts traveled the nation's highways and back roads, going where he wanted, seeing who he wanted and doing exactly what he wanted to do.
As he trekked the country for "adventure, discovery and romance," Roberts' high-tech wanderings captured the fancy of wannabe telecommuting hobos everywhere.
Roberts — who joined the University of California, San Diego this year as a visiting lecturer — was a magnet for publicity which, in turn, attracted financial resources that fueled his escapades. More than 140 corporate sponsors and 40 volunteers supported his last 17,000 miles into an electronic world of business and friendships he called Dataspace.
"It was a three-way symbiosis between the project, the sponsors and the media," he said. 'They all fed on each other."
For the last leg of his journey, Roberts toured the country in a $1.2 million recumbent bike (something like a recliner on wheels) that featured several computers, including two IBM-compatibles, a Macintosh and Sun SPARCstation; an electronic chord keyboard built into the handlebars so he could receive and transmit messages on the move; an ultrasonic device built into his helmet to move the cursor around on the computer screen; a satellite electronic mail link; a complete ham radio; a cellular phone with modem and fax; and a trailer fitted with a 72-watt solar panel.
He called the 580-pound bicycle-office BEHEMOTH, for Big Electronic Human Energized Machine… Only Too Heavy.
About three months ago, Roberts parked BEHEMOTH in a UCSD lab where he's begun work on yet an other nomadmobile: a high-tech, multihull vessel he calls a "kayacht."
"I got tired of the asphalt, tired of bad drivers and hills and decaying road surfaces and just the culture of the road," Roberts said recently from the "Nomadic Research Labs" housed in UCSD's Engineering Building.
"I have this new passion now. I'm fascinated by water and sailing."
For the next two years, Roberts and a team from UCSD's Scripps Institution of Oceanography, the engineering faculty, more than 100 industrial sponsors and students he'll be coaching in a new design course for electrical and computer engineering majors will build the Sea Moss Microship. Expected launch date for the vessel is the spring of 1995.
"A kayak is small and personal," said Roberts, a combination computer consultant, author, speaker and techno-wanderer. "It's the water equivalent of a bicycle." However, calling Roberts' latest vision a kayak would be something like calling BEHEMOTH a bike. Roughly speaking, the craft is designed around a 30-foot-long, 1.5-ton center hull, sandwiched between detachable double seat kayaks. Two 40-square-foot solar array panels will form the bridge between the three craft, generating roughly 720 watts of electricity — enough to power a small motor to speeds up to six knots.
In the absence of sunlight, propulsion could be provided by pedal power (a recumbent bike sans wheels built into the cockpit) or by wind power with a roller-furling sail rig- A Macintosh computer will form the center piece of the helm, with a keyboard built into the rudder controls, or possibly split in half and mounted on a pair of sliding armrests that control the rudder. Cursor control no longer will come from an ultrasonic device built into a helmet (Roberts doesn't plan to wear a helmet), but rather from a water proof trackball or joystick.
"Every aspect of the boat is intended to be controlled from him sitting in the driver seat and issuing commands to the computer sitting in front of him," said Clark Guest, professor of electrical and computer engineering (ECE), who will direct the students' role in the project.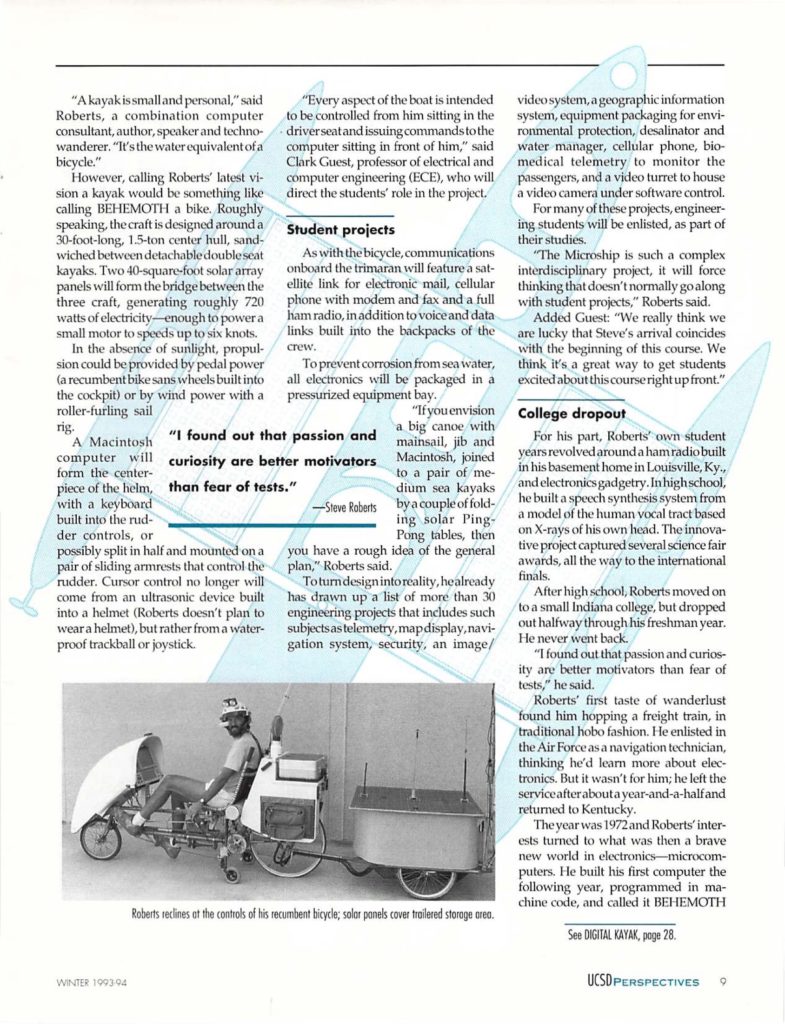 Student projects
As with the bicycle, communications onboard the trimaran will feature a satellite link for electronic mail, cellular phone with modem and fax and a full ham radio, in addition to voice and data links built into the backpacks of the crew.
To prevent corrosion from sea water, all electronics will be packaged in a pressurized equipment bay.
"If you envision a big canoe with mainsail, jib and Macintosh, joined to a pair of medium sea kayaks by a couple of folding solar Ping-Pong tables, then you have a rough idea of the general plan," Roberts said.
To turn design into reality, he already has drawn up a list of more than 30 engineering projects that includes such subjects as telemetry, map display, navigation system, security, an image video system, a geographic information system, equipment packaging for environmental protection, desalinator and water manager, cellular phone, biomedical telemetry to monitor the passengers, and a video turret to house a video camera under software control.
For many of these projects, engineering students will be enlisted, as part of their studies.
"The Microship is such a complex interdisciplinary project, it will force thinking that doesn't normally go along with student projects," Roberts said.
Added Guest: "We really think we are lucky that Steve's arrival coincides with the beginning of this course. We think it's a great way to get students excited about this course right up front."
College dropout
For his part, Roberts' own student years revolved around a ham radio built in his basement home in Louisville, Ky., and electronics gadgetry. In high school, he built a speech synthesis system from a model of the human vocal tract based on X-rays of his own head. The innovative project captured several science fair awards, all the way to the international finals.
After high school, Roberts moved on to a small Indiana college, but dropped out halfway through his freshman year. He never went back.
"I found out that passion and curiosity are better motivators than fear of tests," he said.
Roberts' first taste of wanderlust found him hopping a freight train, in traditional hobo fashion. He enlisted in the Air Force as a navigation technician, thinking he'd learn more about electronics. But it wasn't for him; he left the service after about a year-and-a-half and returned to Kentucky.
The year was 1972 and Roberts' interests turned to what was then a brave new world in electronics—microcomputers. He built his first computer the following year, programmed in machine code, and called it BEHEMOTH (for Badly Engineered Heap of Electrical, Mechanical, Optical and Thermal Hardware).
Word of Roberts' invention spread. Incredibly verbal, he soon became a hit on local talkshows, and electronics companies and universities began calling him to serve as a consultant.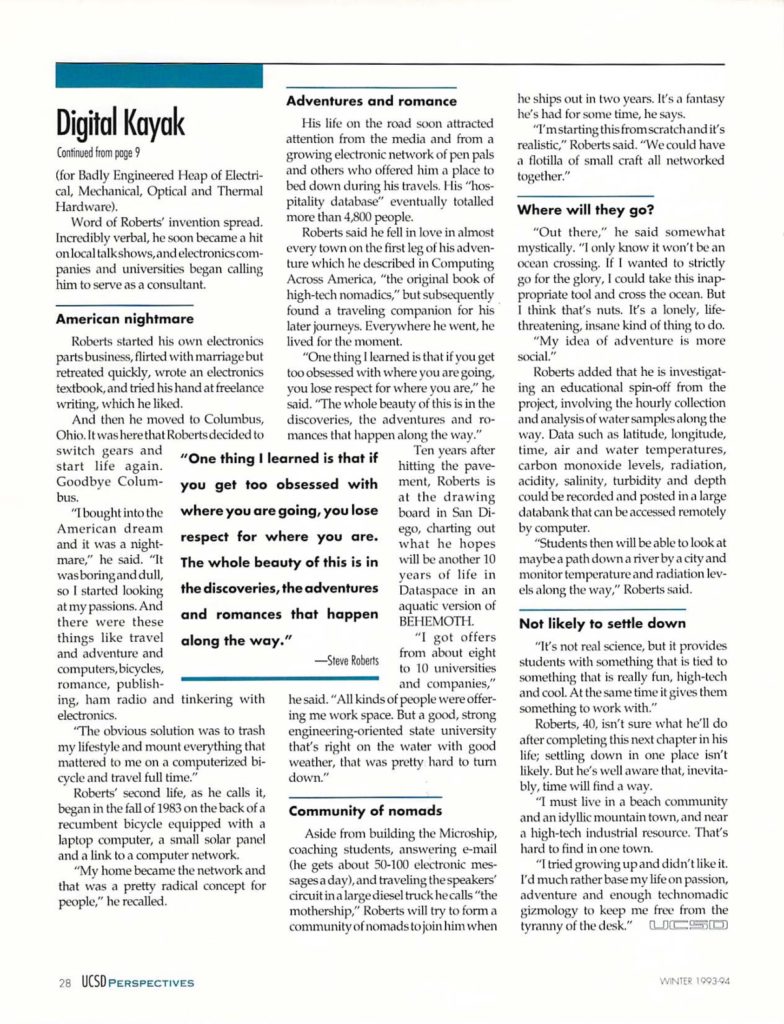 American nightmare
Roberts started his own electronics parts business, flirted with marriage but retreated quickly, wrote an electronics textbook, and tried his hand at freelance writing, which he liked.
And then he moved to Columbus, Ohio. It was here that Roberts decided to switch gears and start life again. Goodbye Columbus.
"I bought into the American dream and it was a nightmare," he said. "It was boring and dull, so I started looking at my passions. And there were these things like travel and adventure and computers, bicycles, romance, publishing, ham radio and tinkering with electronics.
"The obvious solution was to trash my lifestyle and mount everything that mattered to me on a computerized bicycle and travel full time."
Roberts' second life, as he calls it, began in the fall of 1983 on the back of a recumbent bicycle equipped with a laptop computer, a small solar panel and a link to a computer network.
"My home became the network and that was a pretty radical concept for people," he recalled.
Adventures and romance
His life on the road soon attracted attention from the media and from a growing electronic network of pen pals and others who offered him a place to bed down during his travels. His "hospitality database" eventually totalled more than 4,800 people.
Roberts said he fell in love in almost every town on the first leg of his adventure which he described in Computing Across America, "the original book of high-tech nomadics," but subsequently found a traveling companion for his later journeys. Everywhere he went, he lived for the moment.
"One thing I learned is that if you get too obsessed with where you are going, you lose respect for where you are," he said. 'The whole beauty of this is in the discoveries, the adventures and romances that happen along the way."
Ten vears after hitting the pavement, Roberts is at the drawing board in San Diego, charting out what he hopes will be another 10 years of life in Dataspace in an aquatic version of BEHEMOTH.
"I got offers from about eight to 10 universities and companies," he said. "All kinds of people were offering me workspace. But a good, strong engineering-oriented state university that's right on the water with good weather, that was pretty hard to turn down."
Community of nomads
Aside from building the Microship, coaching students, answering e-mail (he gets about 50-100 electronic messages a day), and traveling the speakers' circuit in a large diesel truck he calls "the mothership," Roberts will try to form a community of nomads to join him when he ships out in two years. It's a fantasy he's had for some time, he says.
"I'm starting this from scratch and it's realistic," Roberts said. "We could have a flotilla of small craft all networked together."
Where will they go?
"Out there," he said somewhat mystically. "I only know it won't be an ocean crossing. If I wanted to strictly go for the glory, I could take this inappropriate tool and cross the ocean. But I think that's nuts. It's a lonely, life-threatening, insane kind of thing to do.
"My idea of adventure is more social."
Roberts added that he is investigating an educational spin-off from the project, involving the hourly collection and analysis of water samples along the way. Data such as latitude, longitude, time, air and water temperatures, carbon monoxide levels, radiation, acidity, salinity, turbidity and depth could be recorded and posted in a large databank that can be accessed remotely by computer.
"Students then will be able to look at maybe a path down a river by a city and monitor temperature and radiation levels along the way," Roberts said.
Not likely to settle down
"It's not real science, but it provides students with something that is tied to something that is really fun, high-tech and cool. At the same time it gives them something to work with."
Roberts, 40, isn't sure what he'll do after completing this next chapter in his life; settling down in one place isn't likely. But he's well aware that, inevitably, time will find a way.
"I must live in a beach community and an idyllic mountain town, and near a high-tech industrial resource. That's hard to find in one town."
I tried growing up and didn't like it. I'd much rather base my life on passion, adventure and enough technomadic gizmology to keep me free from the tyranny of the desk."